Senior Management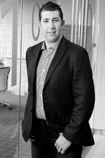 Jacques Erasmus, Chief Information Security Officer
As Webroot's first chief information security officer, Jacques Erasmus oversees all data security measures across the business, including development, implementation, and compliance. He is responsible for managing risks related to Webroot's information security, business continuity planning, crisis management, compliance and privacy.
Erasmus brings to the role more than a decade of technical expertise, including nine years leading malware detection efforts at Webroot and Prevx, which was acquired by Webroot in 2010. While at Prevx he led incident response and PCI-DSS activities for many large companies worldwide and acquired various certifications, most notably CISSP and CISM certifications. In 2009 the British Computer Society named Erasmus "Young IT Professional of the Year."
Prior to Webroot, Erasmus served as a senior-level consultant for Sun Microsystems where he advised on server ranges, security and backup infrastructure. Erasmus also worked as a third-party consultant performing penetration testing for a number of South Africa's largest companies.