PROVIDING CUSTOMIZABLE DASHBOARD
INSTANT VISIBILITY OF KEY WEB METRICS
The Dashboard is the starting page of the web security service and is highly configurable by those with administrator access who can choose up to six charts to view simultaneously.
Charts are easily arranged on the Dashboard by simply dragging and dropping, and chart attributes such as the title of the panel, report type, time window, display type, number of items to be displayed, are easily edited and adjusted as required.
The Dashboard data for most charts is updated every 10 minutes except for items like ,'The Hourly Time Spent Surfing' and 'Hourly Website Domains Visited' charts that are of course updated hourly. The Dashboard may also be refreshed at any time by refreshing the web page, or clicking on the Dashboard tab in the console.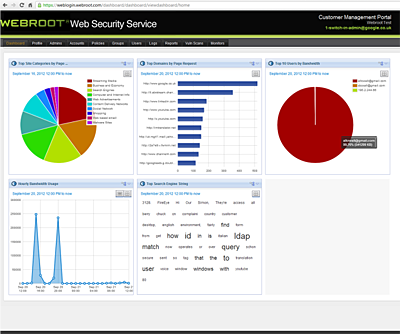 Fully Customizable Dashboard
By default the Dashboard includes six charts as well as a notices panel that feeds through security and service update messages to administrators. The default charts displayed are:
Hourly Bandwidth Usage
Top 10 Blocked Site Categories
Top 10 Blocked Malware Name
Top 10 Users by Bandwidth
Top 10 Blocked Domains
Top 50 Search Engine String
These charts can be easily customized and edited, plus other charts are available if you need a different view of your web traffic.
Additional charts include: Top Users by Time Spent Surfing; Top Users by Number of Clicks; Top Site Categories by Page Request; Top Domains by Page Request; Top Blocked Domains (Malware); Top Blocked Users by Site Category; Top Blocked Malware Name; Hourly Time Spent Surfing; Hourly Website Domains Visited.