SecureAnywhere™ Business
Endpoint Protection
Preventing Software Conflicts
The Most Efficient Endpoint Security Client Ever Designed
One of the most noticeable features that sets Webroot SecureAnywhere® apart from the competition is our lightweight client. While its size is impressively small, the speed at which it scans for threats results in a solution that is out of the way – in fact, most users might not even notice it at all.
Because the Webroot SecureAnywhere software is designed to operate at the kernel level, it has virtually no conflicts with any other programs – including security software you may already be using. This eliminates the need to create workarounds or turn off certain features and functionality within Webroot SecureAnywhere. It also allows for you to trial Webroot SecureAnywhere without needing to uninstall any preexisting security layers.
Related Features:
---
MINIMAL SYSTEM IMPACT
The Webroot SecureAnywhere® Agent is an ultra-light 700KB client designed for significantly better operational speed than other AV solutions.
On disk, it occupies less than 4MB* of space. During scanning, its RAM usage is around 12MB*or less. It is by far the world's lightest, smallest and most efficient endpoint protection Agent.1
Webroot succeeds where other solutions have failed, with a smaller footprint and faster scanning. It's an easy-to-manage, time-saving product.
The Webroot SecureAnywhere Agent works by sending file signatures and ancillary data on programs and objects to the Webroot® Intelligence Network™. It then receives real-time predictions and determinations on whether an object is 'known' good, 'known' bad, or unknown/undetermined.
The reduction of on-device processing directly contributed to Webroot SecureAnywhere scoring a record 78/80, or 97.5%, in independent performance testing. These tests focused on different performance metrics determined by PassMark Software and compare Webroot SecureAnywhere to seven of the world's leading AV vendors.
Webroot SecureAnywhere uses a variety of techniques to reduce the impact it has upon local endpoint resources. These include parsing the disk at the RAW level (to maximize scan speeds), minimizing network communication and intelligently tuning its memory usage when resource-intensive applications are detected. This feature is especially useful in traditional and virtualized server environments as well as on PCs.
During the most comprehensive scans, Webroot SecureAnywhere typically sends between 300KB and 2MB of data to the Webroot Intelligence Network for analysis. It normally receives back less than 250KB of data. On average, normal daily operation of the Webroot SecureAnywhere Agent exchanges less than 100KB of data with the Webroot Intelligence Network.
The result of optimizing Agent size, functionality, scanning, communications and interoperability within the endpoint environment is that it's never obvious to end users that the program is using any CPU or RAM resources, and therefore never gets in their way.
Such low resource usage also permits Webroot SecureAnywhere to run concurrent scans, or effortlessly scale and run on virtual machines operating within a single physical server - without any disruption.
This low system impact also improves security, as Administrators may schedule regular security scans during the working day without impacting a user's ability to keep using their machine; something not achievable with other solutions.
*PassMark Software - Endpoint Security Performance Benchmark Report – February 2012
---
LOW CONFLICT AGENT DESIGN
Antivirus scans and updates are usually the reason why customers using legacy security software report their machine is running slowly or they can't use a machine at all during an update. The CPU and RAM usage is so high that many machines don't have enough resources to run the users' applications.
The Webroot SecureAnywhere® Agent is an ultra-light endpoint client of 700KB, designed to provide a significant improvement in operational speed. On disk it occupies a mere 4 MB* of space and during scanning its RAM usage is around 12MB* or less.
Once Webroot is installed, you don't need to do anything - it's more streamlined and user friendly.
Due to its small size and design it operates efficiently on computers with minimal system requirements. Recent independent testing of all the major antivirus vendors by PassMark Software has clearly shown that Webroot SecureAnywhere is by far the world's lightest, smallest and most efficient endpoint protection Agent.
Webroot SecureAnywhere typically downloads and installs in less than six* seconds, and is fully operational in under *2 minutes.
*PassMark Software - Endpoint Security Performance Benchmark Report – February 2012
When deploying an antivirus solution, you often need different client Agents depending on the class of machine where the install is taking place. This is not the case with Webroot SecureAnywhere. You use the same Agent for deployment on PCs, Laptops, and Servers or in VMware, Microsoft Hyper-V and Citrix terminal server environments. The unique capability to intelligently tune CPU and memory usage when resource-intensive applications are detected allow the Webroot SecureAnywhere Agent to be installed within individual virtual machines or on task-specific servers without impacting their performance. This feat is impossible with other AV security vendors' software because of their large footprints and demands for CPU, Memory and Disk resources, which are often hundreds of times bigger than Webroot.
Our lightning-fast system scans take under two minutes, compared to hours for many other security solutions, and the ability to run concurrent scans allows Webroot SecureAnywhere to effortlessly scale to thousands of Virtual Machines on a single physical server. Webroot SecureAnywhere achieves this by scanning beneath the operating system and parsing the hard disk and registry at a raw level.
Webroot SecureAnywhere is designed so that it can coexist with other security products and play a complementary role in a multi-layer security approach; eliminating the need to uninstall existing solutions prior to migration. It maximizes security while not getting in the way of endpoint performance or user productivity.
---
WINDOWS SYSTEM CLEANER
System performance often becomes an issue if users allow the clutter that results from operating Windows to build- up. To help avoid this, Windows System Cleaner has been automatically built-in to Webroot SecureAnywhere® and is based upon Webroot's well-known Window Washer technology.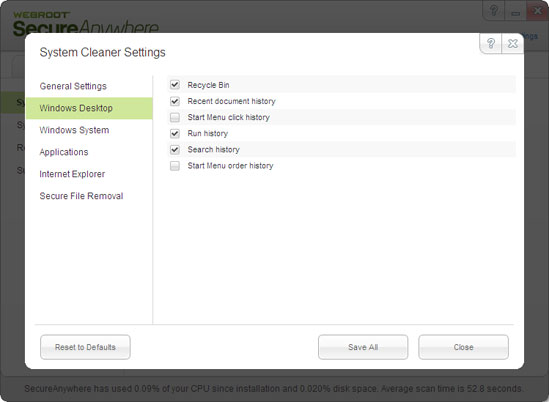 The System Cleaner can be set to run at boot-up or scheduled for during the working day. It empties the recycle bin and removes old cache files, cookies, recent program start files, temporary Internet files and more.
Regular use of the Windows System Cleaner helps to both optimize endpoint performance and decrease IT Helpdesk calls from users complaining about a "slow running machine."
With Webroot we've saved costs, improved bandwidth usage and increased productivity. We like that everything is hosted with Webroot. From start to finish, it's just been a great experience for us.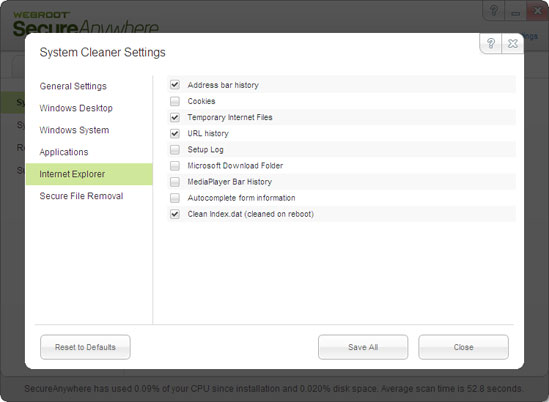 The System Cleaner offers various settings to identify and remove the many types of potentially problematic files that may harmlessly be removed from key areas of users' machines.
The only auto-populated area is the Applications Cleaner list, which is based on each individual user's programs. The other Desktop, System and Internet Explorer areas are fixed.
From a Policy perspective, users can be given the ability to run the Windows System Cleaner by themselves or a more centralized administrative approach can be used.
Additionally, there is a Secure File Removal setting to perform secure removal of unwanted Windows System Cleaner data. This setting enables the writing of random data over removed files to make it more difficult for any attacker to recover them.
The overall aim of the Windows System Cleaner is to ensure that the unnecessary data created during normal operation of a Windows endpoint is periodically removed and the performance is always optimal.