SecureAnywhere™ Business
Endpoint Protection
Reducing Wait Times
Eliminating Long Phone Support Queues
Webroot Support separates itself from every other endpoint provider through its seamlessly integrated in-product support process, which is available 24x7x365 and at no additional charge. Of course, customers can also communicate and engage with Webroot's technical support team through email, phone and the community forum.
RELATED FEATURES:
---
INTEGRATED SUPPORT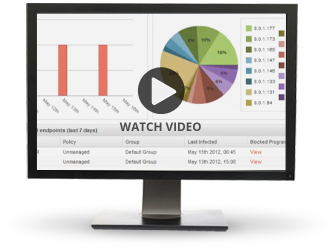 Video: Fully Integrated In- Product Support
Webroot SecureAnywhere® Support was designed from the ground-up to eliminate many of the Support issues companies have been conditioned to accept. We have architected a high degree of automation into our processes, in order to help customers avoid having to make Support calls in the first place. Our goal is to minimize customer wait time and shorten the overall duration of a call if required.

While the ability to call Support is always available, our customers normally choose to open a ticket from within Webroot SecureAnywhere - due to the added efficiency, speed, and thoroughness of the resolution provided.
Administrators can open a ticket directly from the web-based management console, or also enable end- users to open their own support tickets from the Webroot SecureAnywhere system tray icon on their endpoints.
This was the best, most pleasant, and best resolved support situation I have ever encountered.
Behind the scenes, Webroot® is already in motion to facilitate a solution. Endpoints can be configured to automatically upload log files to Webroot for rapid analysis and response. This proactive approach to incidents allows Webroot to assess the situation, and often remediate the issue, within a few minutes of submission. We are already fully-armed with license, system, and endpoint log and scan information to identify root-cause, and help our customers achieve a fast resolution.
Another unique aspect of Webroot Support is a feature of Webroot SecureAnywhere's cloud architecture. Unlike legacy solutions that rely on the development of patches or special signature updates, real- time changes may easily be made during a support engagement with Webroot. For instance, it is possible for Webroot Support to correct an agent determination and instantly have the customer's agents reflect that change without having to go through any other tedious processes.
With Webroot SecureAnywhere, Customers and Technical Support no longer waste valuable time gathering information. Through automation and streamlined process flows, everyone is able to squarely focus their attention on speedily resolving any issues at hand.