SecureAnywhere™ Business
Endpoint Protection
Enabling Self-Remediation
No Need To Solely Rely Upon Customer Support For Resolution
Our remote Agent Commands give administrators unprecedented control over their compliance regulated environments. Unlike other solutions, Webroot SecureAnywhere® allows administrators to self-remediate threats automatically and remotely with no action needed from the end user. This means more control over solving problems and less time waiting on custom scripts from customer support.
Related Features:
---
REMOTE CONTROL AGENT COMMANDS
The console is very easy to navigate and is very quick to browse giving visibility of all systems quickly with a lot of customized features.
Agent Commands are remote instructions that an endpoint agent puts into immediate effect upon checking in with the Webroot SecureAnywhere® Management Console. They are the most powerful set of controls within Webroot SecureAnywhere because they allow an Administrator to have full control. As such, access to Agent Commands is strictly enforced by the level of administration access rights given to individual Administrators.
Agent Commands may be issued to an individual endpoint agent or to all endpoint agents within a group.
There are eight levels of Agent Commands, and the first lets an Administrator activate a variety of built-in features within the endpoint Agent, these are:
Agent – Agent Commands

Scan: Initiate a scan in the background
Change Scan Time: Specify a new recurring scan time for the endpoint.
Scan Folder: Specify a folder to scan.
Clean up: Start a scan and automatically quarantine malicious files.
System Cleaner: Initiate the System Cleaner.
Uninstall: Uninstall the Webroot SecureAnywhere Agent from an endpoint.
Reset: Returns the Webroot SecureAnywhere settings to the defaults.
Remove password protection: Disables the Graphic User Interface Password Protection.

Clear Data Commands



Clear All Log Files: Erases all the current log files on a user's endpoint.
Clear Proxy Settings: Removes any proxy settings that are present in the Agent.

Keycode Commands



Change Keycode: Allows you to specify a different keycode. e.g., the Administrator purchases an upgrade, or needs to harmonize keycodes across cost centers etc.
Change Keycode Temporarily: Allows the administrator choose a keycode from the drop-down list in the Change Keycode Temporarily dialog, and then specify the dates for Webroot SecureAnywhere to use it.

Power and User Access Commands



Lock endpoint: Locks the endpoint as if Ctrl+Alt+Del was executed locally.
Log Off: Logs off the currently logged in user.
Reboot: Reboots the endpoint by simulating a power failure.
Reboot into Safe Mode with Networking: Restart the endpoint in Safe Mode with Networking enabled.
Shutdown: Shuts down the endpoint.

Antimalware Tools Commands



Reset Desktop Wallpaper: Resets the desktop wallpaper to default settings.
Reset Screen Saver: Resets the screen saver to the default settings.
Reset System Policies: Resets system policies (for example, if the Task Manager is disabled).
Restore File: Restores all files matching the specified MD5 from quarantine to their original locations, and removes the entry from quarantine.

Files and Processes Commands



Reverify All Files and Processes: Re- verifies the contents of the endpoint's local database when the next scan is run.
Consider All Items as Good: Considers all current items on an endpoint as 'known good' and safe to run.
Allow Processes Blocked by Firewall: Allows communication for all processes that are currently blocked by the Firewall setting.
Kill untrusted: Stops processes that are not white-listed. These processes will be stopped immediately, but will not be prevented from running again.

Identity Shield Commands



Allow Application: Enter the MD5 of an application to Allow..
Deny Application: Enter the MD5 of an application to Deny.
Allow All Denied Applications: Set all Deny applications to Allow.
Protect an Application: Enter the MD5 of an application, and change it from Allow to Protect.
Unprotect an Application: Changes the application's setting from Protect to Allow.

Advanced Agent Commands



Run Customer Support Script: Runs a clean-up script that has been provided by Webroot Support and requires a network path to the file that is specified.
Customer Support Diagnostics: Runs a Webroot SecureAnywhere log-gathering utility to collect information about any endpoint.
Download and Execute a File: Specify a file's direct URL, then download and run it. Administrators can also specify command-line options; for example, specify the /s parameter so that the file you download runs silently, in the background.
Run DOS Command: Specify the DOS command to run.
Run Registry Command: Specify the registry command.
---
REAL-TIME DETERMINATION CHANGES
With Webroot SecureAnywhere, you simply install it, set it, and forget it!
Webroot SecureAnywhere's cloud architecture allows administrators to make their own real-time determination changes, without relying upon support, using the web-based management console.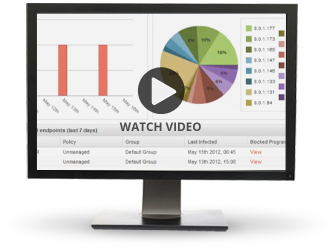 Unlike most legacy endpoint security solutions, there is no need for an administrator to submit a Support ticket to override a determination made by Webroot SecureAnywhere. The administrator has complete control over which files are allowed to run on endpoints. They have the ability to classify files as Good or Bad, and apply overrides globally, or to individual policies.
For example, if an administrator decided that their users should not be allowed to use a specific program, such as torrent software, the administrator can use an MD5 override to flag the file as 'Bad' during scans and quarantine it. This allows administrators to stop endpoints from running undesirable applications. Alternatively, if corporate policies change or a blocked application needs to be restored, administrators have the ability to reverse any overrides and restore the files from quarantine.
Webroot SecureAnywhere frees administrators from a forced dependency upon vendor customer support, and allows administrators to control how their environment responds to threats. It provides automated and robust endpoint security, but enables administrators to make the final decision regarding what programs are truly acceptable for individuals or groups to be using in their environment.