If you have Webroot SecureAnywhere™ installed:
Open the SecureAnywhere program on your computer, and click My Account. You'll see your keycode on that screen.
Additionally, if you see a renewal message within the SecureAnywhere program window, you can click that message to begin the renewal process: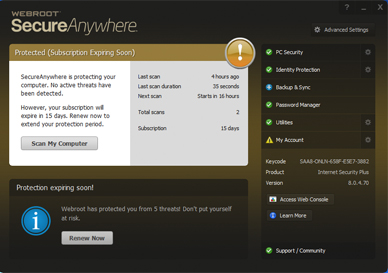 If you do not have a SecureAnywhere™ installed:
C 2000 lick here to request a copy of your keycode.
Need more help? Call us at 1-866-612-4268
Weekdays: 7:00 AM - 7:30 PM Mountain Standard Time
Weekends: 7:00 AM - 6:00 PM Mountain Standard Time