Webroot® Security Intelligence Solutions
Content Classification Service
The Webroot Content Classification Service helps network and security vendors provide greater value to their enterprise security solutions. By adding web content classification functionality they are able to protect their customers against the security threats found within many website content categories. Plus, with the superior coverage and much improved visibility of the Internet provided by Webroot's service, they are able to maintain leadership in addressing customers' key concerns - boosting employee productivity, preserving IT and bandwidth resources, and reducing web usage legal liabilities.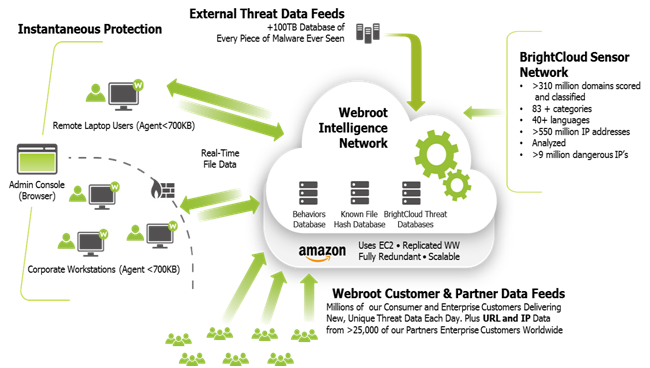 To date Webroot has researched over 8.7 billion URLs and scored and classified over 310 million Internet domains. This is by far the largest URL database of its kind and Partners easily integrate the Webroot Content Classification Service into their own solutions by using our intuitive software development kits (SDKs), REST services, and APIs.
Webroot Content Classification FAQs
>310 million domains scored and classified
83+ categories
40+ languages
>550 million IP addresses analyzed
>9 million dangerous IP's
Overview
Using the world's most advanced combination of machine learning algorithms and human classification systems, in combination with the Webroot® Intelligence Network™, allows Webroot to continuously grow and maintain the world's largest and most accurate Internet security intelligence network.
Web content classification continues to create a significant number of security challenges to those trying to offer enterprises secure web access. Keeping tabs on over 6291 million websites, with a growth rate of over 471 million new sites in the past year, is only the start. There's then users' exposure to phishing, keyloggers, spyware, drive-by malware and the many other types of malicious code encountered during normal daily usage of the Internet. Even 'safe' sites are regularly compromised, moving rapidly between being malicious and benign to avoid detection.
The Webroot Content Classification Service provides network and security vendors with the most effective way to help enterprise customers secure their users against existing and emerging web threats. By providing the broadest most up-to-date and accurate website intelligence split over 83+ website security categories. Webroot transforms protection by significantly improving the visibility of all Internet usage that is so critical in helping enterprises secure users against existing and emerging threats, as well as control Internet usage through the implementation of sensible web access policies.
World-Leading Coverage
The Webroot Content Classification Service offers over 83+ web site categories to provide the granular web access customers demand. With over 310 million domains scored and classified Webroot offers by far the most comprehensive URL coverage and accuracy of any web filtering solution. Our global sensor network continuously gathers web site intelligence and Internet traffic data that is instantly analyzed within Webroot Security Intelligence to detect malicious sites. Sites in the key security risk categories propagating malware, spam, spyware and adware, and phishing are then all made instantly available through the Webroot Intelligence Network.
The Most Accurate Classifications
Webroot prides itself in producing the most accurate web classifications – bar none. Domain coverage is only useful to customers if it's accurate. Webroot's accuracy is achieved through classifying the Internet using a hybrid human/automated classification process. Web crawlers continuously discover new sites to be classified by our human and automated classifiers. Our automated machine learning classification systems are supported by a global multilingual web analyst team that classifies any sites left uncategorized. Uncategorized sites visited by customers' users are dynamically categorized using Webroot's automated classification process. We currently classify 2,500+ URLs per second at an error rate of less than 2% (versus a human error rate of 5-15%).
In Use
Powers parental URL classification within a consumer Internet Security Suite - to help parents protect children against harmful content.
Powers the URL Filtering available on Next-Generation Firewall and IPS systems offering enhanced visibility and improved control of web browsing
Continuous Updates
The Webroot Content Classification Service delivers continuously updated URL category information from the Webroot Intelligence Network, while our Customer Support immediately addresses category suggestions submitted by Customers. Strong Customer feedback and contributions helps to maintain up-to-date and continually refined URL information. All URL information, including threat alerts from the Webroot Intelligence Network is delivered via our service within minutes.
Rapid Implementation
The Webroot Content Classification Service is able to be rapidly integrated into network solutions through the Webroot Software Development Kit (SDK) that integrates with any platform and includes customizable options for delivering either a local, hosted, or hybrid web filtering solution. Developers using our SDK obtain authenticated access to Webroot Intelligence Network Services to run URL tests and the SDK also includes production quality source code for local cache implementation, continuous updates, and subscription management.
Which all means, that getting things up-and-running is quick and easy. In fact Strategic Partners across the globe have had tremendous success in integrating Webroot into their Network solutions from next generation firewalls to network load balancers.
1 Source: Netcraft