SecureAnywhere™ Business
Endpoint Protection
Proactive Support
A New Approach To Support
As soon as 'Help and Support' is clicked in either the client UI or the Admin Console, Webroot initiates an analysis of the endpoint that includes the automated gathering of license key codes, client version, last scan and summary results, endpoint operating system version, latest patch build, and computer name. This enables most issues to be resolved on the initial support request and there is no further action needed from the customer.
Related Features:
---
SUPPORT COMMUNITY
Webroot® has an established online Community that provides Forums for all of our Customers, Partners, and Webroot product experts to collaborate, share best practices and learn from one another.
Our Business Community contains a rich set of historical topics with helpful content to educate and inform Webroot SecureAnywhere® users. The information is written for both end-users and all levels of technical users.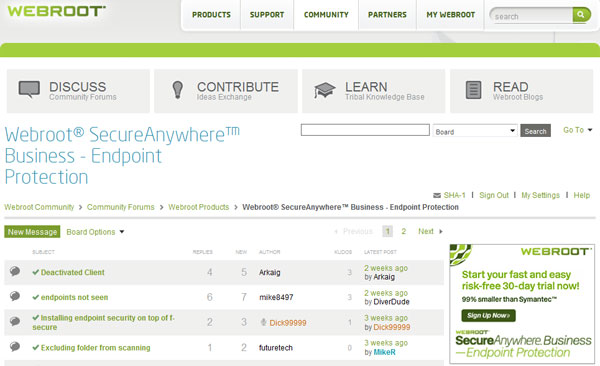 Webroot surpasses all expectations of Customer service and technical knowledge!
The Support Community serves as a vehicle for Customers and Partners to provide valuable input on product features and roadmap prioritization.
Webroot has a 'self-help' repository called "Ask Webroot". This is the quickest way to find answers to a multitude of Webroot SecureAnywhere topics and issues, as well as step-by-step instructions and troubleshooting tips provided by an automated Webroot Support Agent. Ask Webroot also has quick links to core information like the Admin User Guide, Frequently Asked Questions and the latest Product Release Notes.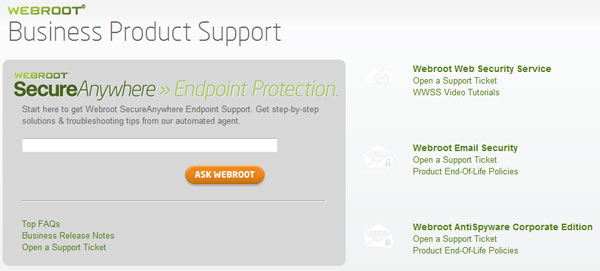 The Webroot Threat Blog can be directly accessed from the Community and from the management console. This is a great resource for keeping Customers up-to-date on the latest events in Security that could impact them.
We have attempted to cater to every support need with the ability to discuss, contribute, learn and read about all aspects of Webroot SecureAnywhere from in-product or online. Additionally, in-product and telephone support is always available as well.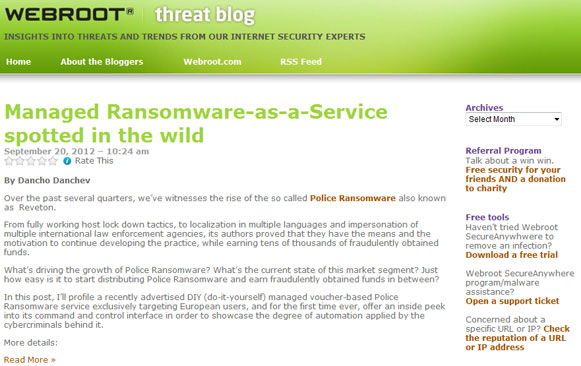 ---
INTEGRATED SUPPORT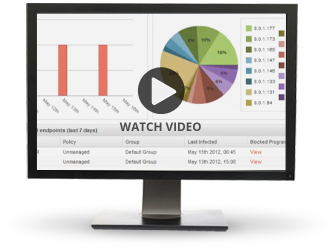 Video: Fully Integrated In- Product Support
Webroot SecureAnywhere® Support was designed from the ground-up to eliminate many of the Support issues companies have been conditioned to accept. We have architected a high degree of automation into our processes, in order to help customers avoid having to make Support calls in the first place. Our goal is to minimize customer wait time and shorten the overall duration of a call if required.

While the ability to call Support is always available, our customers normally choose to open a ticket from within Webroot SecureAnywhere - due to the added efficiency, speed, and thoroughness of the resolution provided.
Administrators can open a ticket directly from the web-based management console, or also enable end- users to open their own support tickets from the Webroot SecureAnywhere system tray icon on their endpoints.
This was the best, most pleasant, and best resolved support situation I have ever encountered.
Behind the scenes, Webroot® is already in motion to facilitate a solution. Endpoints can be configured to automatically upload log files to Webroot for rapid analysis and response. This proactive approach to incidents allows Webroot to assess the situation, and often remediate the issue, within a few minutes of submission. We are already fully-armed with license, system, and endpoint log and scan information to identify root-cause, and help our customers achieve a fast resolution.
Another unique aspect of Webroot Support is a feature of Webroot SecureAnywhere's cloud architecture. Unlike legacy solutions that rely on the development of patches or special signature updates, real- time changes may easily be made during a support engagement with Webroot. For instance, it is possible for Webroot Support to correct an agent determination and instantly have the customer's agents reflect that change without having to go through any other tedious processes.
With Webroot SecureAnywhere, Customers and Technical Support no longer waste valuable time gathering information. Through automation and streamlined process flows, everyone is able to squarely focus their attention on speedily resolving any issues at hand.