SecureAnywhere™ Business
Endpoint Protection
Providing Granular Control
Full Visibility Into Every Endpoint At Any Time
Webroot SecureAnywhere® provides immediate access to the status of every endpoint so that the administrator can immediately take action if necessary. Built-in reporting tools provide a full view into the entire managed network to help identify threats and trends, manage compliance, and provide corporate management with a full picture of malware protection status.
Related Features:
---
MANAGEMENT CONSOLE REPORTING
Because of the Web-based Management Console, we only need to designate one person to be in charge of managing the system. They can print many different types of reports and then they provide a detailed report which we review and discuss at our monthly security meeting - our management team loves it!
The endpoint reporting within Webroot SecureAnywhere® aims to provide highly interactive drill-down visibility into the status of all endpoints. However, it also plays another role by allowing the administrator to directly create policy overrides. This ability to immediately interact with endpoints greatly simplifies management and allows administrators to work pro- actively.
The management console reporting immediately shows administrators if there are any threats or unidentified software on their network, as well as every version of Webroot SecureAnywhere running on their endpoints. All reports are fully interactive and presented by default in a graphical form. However, administrators may also export the data into a .csv file for external analysis, or as a .pdf for sharing with others.
The management console comes with a number of pre- built reports that can be further customized around variables such as date ranges, included endpoints and more.
The Agent Version Spread Report shows the versions of Webroot SecureAnywhere that are being used in each user group, and the total number of endpoints using each version.
An additional endpoint report - the Agents Installed Report - allows Administrators to filter installed Agents by date, and it is especially useful during deployment to ensure Agents have populated all the desired endpoints.
The All Threats Seen Report shows all threats that were seen on all the endpoints and details about each threat.
From this report, administrators can create an override by selecting a threat from the list and then clicking "Create override." Similarly, if any files have been mistakenly quarantined from this report, administrators can select them and click on 'Restore this file from Quarantine' so the files will be released as 'Known Good'.
The All Undetermined Software Seen Report shows any processes or applications that have not been categorized by the Webroot Intelligence Network. It is useful for highlighting potential threats and from this report the administrator can select items and either block or allow them by clicking on the 'Create override' flag.
The console also includes an Endpoints with Undetermined Software on Last Scan Report which shows any endpoints that have been flagged as having undetermined software during their most recent scan.
The Endpoints with Threats on Last Scan Report shows all endpoints that have reported threats. This is the most important report when quantifying and remediating any infected endpoints. The administrator can view additional details specific to any endpoint.
The Threat History (Collated) Report provides a summary of the threats found on all endpoints and the number of programs blocked on all endpoints, based upon the date range chosen.
There is also a Threat History (Daily) Report which produces a date range summary of all the threats found on all endpoints.
---
WEB-BASED MANAGEMENT CONSOLE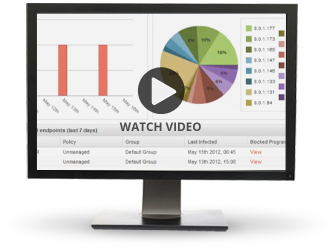 Video: Web Based Management Console
The Webroot SecureAnywhere® web-based management console can be accessed via any web browser by entering a user name and password, plus an individual security code that ensures only legitimate Administrators will gain access. Additional administrators can be added and given varied access permissions to ensure the appropriate levels of control over policies, reporting, alerting and management of endpoints.
The 'Home' page of the management console provides links to Endpoint Security, Mobile Security and the Webroot Community.
By providing an instant overview of protected endpoints and their current statuses, plus the ability to drill into the details directly from the Status Page, administration is greatly simplified. The Webroot SecureAnywhere management console allows you to access all the features needed for viewing, remotely interacting with and managing endpoints under clear headings that include:
Policies: Policies define the behavior of Webroot SecureAnywhere on the endpoints wherever they are deployed. Webroot SecureAnywhere's policy settings offer easy and granular customization.
Group Management: Groups help to organize endpoints for easy management. You can view groups and each endpoint within these groups, and select individual endpoints to see scan histories or initiate remote agent commands.
Reports: Reports show threats and unidentified software present on your network, and the versions of Webroot SecureAnywhere software running on your endpoints.
Overrides: Overrides give you administrative control over the files that are allowed in your environments. You can override files as Good or Bad and apply these overrides globally, or by policy when needed.
Logs: Logs provide a view of changes, and a history of command usage.
Software Download & Deployment: Provides an easy, in-console Agent deployment tool and links to information on the various deployment options available.
Management Console – Status Page
By clicking on the Endpoint Security tab, the Administrator is taken to the Status page, which provides a complete overview of all deployed endpoints. The status page also gives the ability to drill into details directly, greatly simplifying user administration.
The Status Page shows:
An alert notification if any managed endpoints need attention. By clicking the notification, administrators can access a list of endpoints that have recently encountered threats.
A bar chart showing the number of endpoints that have encountered threats in the last 7 days. Clicking the chart allows the administrator to see a detailed list of those endpoints.
A pie chart detailing the Webroot SecureAnywhere software version deployed across all managed endpoints, which gives helpful insight to any agents that have not checked in.
Endpoint activity, which shows the number of endpoints that are managed by Webroot SecureAnywhere, based on a time period selected from a drop-down menu.
A list of recently infected endpoints which can be drilled into to view the infections on each endpoint and view the associated policies.
An information panel showing the most recent threat information with links to Education Videos; Release Notes and Webroot News.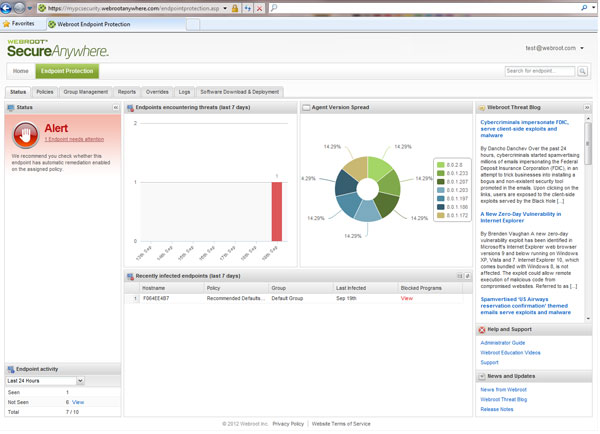 Management Console - Status Page