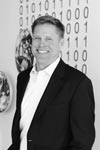 Scott Merkle, Vice President of Enterprise Sales and Strategic Alliances
Scott Merkle is responsible for leading Webroot's sales teams in the Enterprise and OEM sectors, bringing the company's BrightCloud Security Services to enterprise customers through partnerships with leading OEMs; including Cisco, F5, Palo Alto Networks, RSA, and Aruba Networks.
Merkle brings 27 years of experience in the high tech and communications industries, most recently serving as the senior vice president of business development for BrightPoint. Merkle also served in roles as the co-founder of Page Foundry, a digital content ecommerce startup; senior vice president of sales and operations for DBS Communications, a $70 million wireless MVNO on the AT&T and Sprint networks; and vice president and general manager for NextiraOne, a $1 billion global Cisco/Nortel reseller. Prior to NextiraOne, he held several sales, marketing, and product management positions, including Apropos Technology (CRM software), Zenith Data Systems (mobile), GO Corporation (mobile operating systems) and Andersen Consulting (Accenture).
Merkle holds an MBA from the University of California, Berkeley, and an Economics Degree from Northwestern University.