SecureAnywhere™ Business
Endpoint Protection
Streamlining Management And Control For All Types of Deployment
NEW – Choose Between Two Powerful And Intuitive Web-Based Management Consoles
A cornerstone of reducing the time and costs associated with managing endpoint security is Webroot SecureAnywhere's® choice of web-based management consoles – opt for either the Standard or the new Global Site Manager console to match your management needs.
Standard
The Standard endpoint security management console is designed with ease of administration in mind and eliminates the need to install and manage a separate dedicated management server. Critical endpoint information is presented clearly and immediately, highlighting any endpoints needing attention. Simple in its design, this powerful and intuitive console provides quick access to group and policy management, endpoint settings, and all the remote access controls necessary for most types of standard, uncomplicated endpoint deployments.
NEW Global Site Manager
The Global Site Manager console is purpose designed to offer hierarchical layered views that let thousands of endpoints be simply managed via a single console. Designed with MSPs and large multi-location Enterprises in mind it makes it easy to shift between global and individual site/customer views, or mine down right to the individual user level. Global Site Manager offers a highly scalable, efficient and structured way to manage complex deployment scenarios and the multi-layered administrative access rights to provide delegated management too.
Other key Global Site Manager features include more sophisticated threat alerting, reporting and policy controls that ensure malware is identified, removed and contained before it impacts any part of the business. There is also a built-in auto-provisioning tool that allows new users and keycode licenses to be issued without needing to contact Webroot to purchase new license key codes. Global Site Manager puts the Administrator in complete control, as licenses are now issued automatically from within Global Site Manager and any billing changes automatically adjusted, co-termed and invoiced. This saves huge amounts of administration time.
Related Features:
---
WEB-BASED MANAGEMENT CONSOLE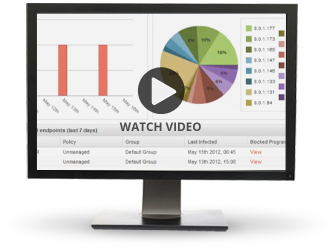 Video: Web Based Management Console
The Webroot SecureAnywhere® web-based management console can be accessed via any web browser by entering a user name and password, plus an individual security code that ensures only legitimate Administrators will gain access. Additional administrators can be added and given varied access permissions to ensure the appropriate levels of control over policies, reporting, alerting and management of endpoints.
The 'Home' page of the management console provides links to Endpoint Security, Mobile Security and the Webroot Community.
By providing an instant overview of protected endpoints and their current statuses, plus the ability to drill into the details directly from the Status Page, administration is greatly simplified. The Webroot SecureAnywhere management console allows you to access all the features needed for viewing, remotely interacting with and managing endpoints under clear headings that include:
Policies: Policies define the behavior of Webroot SecureAnywhere on the endpoints wherever they are deployed. Webroot SecureAnywhere's policy settings offer easy and granular customization.
Group Management: Groups help to organize endpoints for easy management. You can view groups and each endpoint within these groups, and select individual endpoints to see scan histories or initiate remote agent commands.
Reports: Reports show threats and unidentified software present on your network, and the versions of Webroot SecureAnywhere software running on your endpoints.
Overrides: Overrides give you administrative control over the files that are allowed in your environments. You can override files as Good or Bad and apply these overrides globally, or by policy when needed.
Logs: Logs provide a view of changes, and a history of command usage.
Software Download & Deployment: Provides an easy, in-console Agent deployment tool and links to information on the various deployment options available.
Management Console – Status Page
By clicking on the Endpoint Security tab, the Administrator is taken to the Status page, which provides a complete overview of all deployed endpoints. The status page also gives the ability to drill into details directly, greatly simplifying user administration.
The Status Page shows:
An alert notification if any managed endpoints need attention. By clicking the notification, administrators can access a list of endpoints that have recently encountered threats.
A bar chart showing the number of endpoints that have encountered threats in the last 7 days. Clicking the chart allows the administrator to see a detailed list of those endpoints.
A pie chart detailing the Webroot SecureAnywhere software version deployed across all managed endpoints, which gives helpful insight to any agents that have not checked in.
Endpoint activity, which shows the number of endpoints that are managed by Webroot SecureAnywhere, based on a time period selected from a drop-down menu.
A list of recently infected endpoints which can be drilled into to view the infections on each endpoint and view the associated policies.
An information panel showing the most recent threat information with links to Education Videos; Release Notes and Webroot News.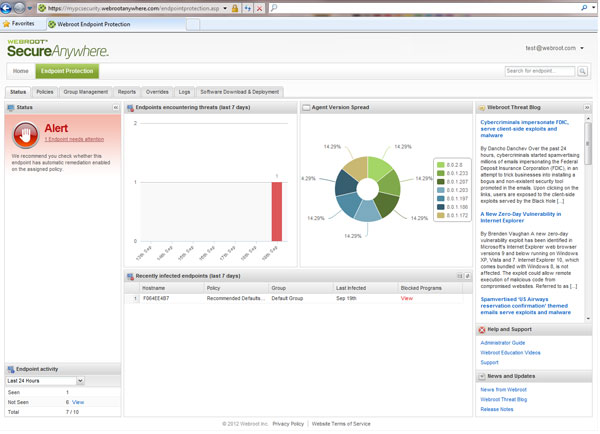 Management Console - Status Page
---
AGENT-CONSOLE COMMUNICATION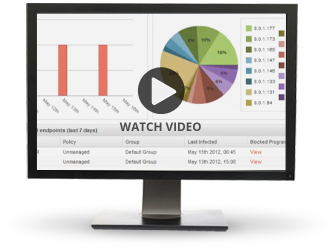 Video: Remote Agent-to-Console Communication
The Webroot SecureAnywhere® console has the unique ability to send a variety of powerful Agent Commands and Overrides in addition to policy updates. These can be broadcasted to individual endpoints or all endpoints under management regardless of their geographic location or corporate network connectivity.
As long as the endpoint has an Internet connection, the commands are delivered with no need for any end user interaction. If an endpoint is offline at the time a command is sent, then the next time it goes online the Agent automatically checks-in with the management console and receives any pending commands.
Rather than having the console 'push' commands down, Webroot SecureAnywhere Agents poll and pull from the management console for policy changes, overrides and Agent Commands. This 'heartbeat' communication occurs at regular intervals that are set and controlled by the administrator and are a very efficient way of communication. This occurs regardless of location, so if employees have a high degree of mobility, it greatly simplifies the task of remote user management.
Communications between the Agents, Management Console and the Webroot® Intelligence Network™ are critical for the successful operation of Webroot SecureAnywhere. Therefore they are hardened and designed to be secure from tampering or interference. The Agents communicate using secure communications and if any Agent has not checked-in recently, its status is highlighted in the 'Endpoint Activity' panel on the Status Page of the management console.