Highly Flexible Policy Control Features
The following control features make it easy for administrators to create custom policies to address specific user group web filtering requirements.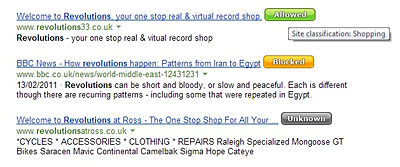 Scan-ahead capability - Displays visual cues or icons on pages returned by popular search engines. Based on the policy, the service inserts these icons to the right of the URLs, showing the user which pages are: allowed, blocked, coached, or unknown (not categorized).
In addition, a Threat icon appears with a warning if the site contains dangerous downloads. Hovering the cursor over the icon displays additional information about the site.
Heuristic detection of phishing sites - Cybercriminals increasingly lure users into revealing sensitive personal and corporate information using pages that masquerade as legitimate financial and banking sites. If a page looks like a banking or financial site, the Web Security Service checks the URL and automatically blocks access if it determines the site is a phishing threat. A message tells users that the site requested contains heuristically detected malware.
Allow, coach, or block URLs by category – Lets you apply a policy to different categories of websites, eliminating the need to define a policy for each site. You can also determine the policy for uncategorized sites.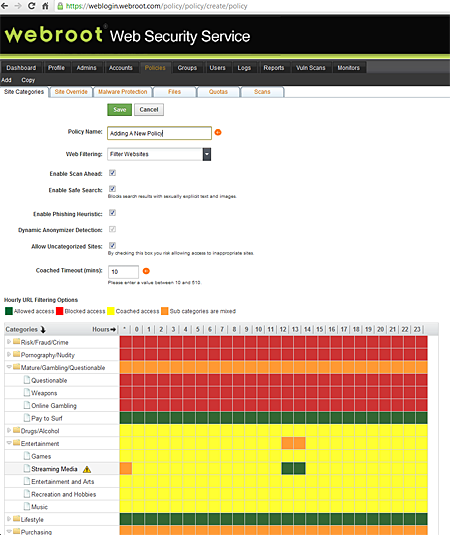 File type filtering – Enables blocking of file uploads and downloads according to file type.
Override policy for specific sites and file types - After applying category-wide site and file type policies administrators can exempt specific URLs from those policies.
Safe search – Uses the capability in most browsers to scan and block pornographic images and videos returned by search engines. This is particularly useful in schools where you must meet legislative requirements.
Quotas for web access – Lets you define limits to users' web activity by setting quotas on bandwidth usage, number of sites accessed, and overall time spent surfing the web. For each quota, resulting icons may include blocking the user if the limit is reached, warning when 85% of the limit is reached, and notifying the administrator when the service blocks a user.
Highly Intuitive Policy UI
An intuitive policy UI makes the revision or creation simple and straightforward. Create and deploy policies in minutes using radio buttons and pull-down menus.

Additionally, the ability to create exceptions and overrides offers the flexibility to grant very specific access as required.