Father's Day is coming once again, the time of year when we celebrate the most underappreciated (by his count) member of our family. We love to give 'em hell, but dads really don't get spoiled as much as they deserve for putting up with us through all the shenanigans we pull during the rest of the year.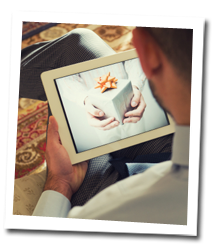 With that in mind, your own dad is probably past due for an awesome Father's Day tech gift to reward him for the infinite restraint he demonstrated when you borrowed his new car without telling him. And then wrecked it. Along with part of the garage. And a good chunk of the laundry room….
Check out these Father's day tech gift ideas that span from the traditional to the mischievous.
iPad ($499.00)
Yes, it's a splurge, but think of it as a down payment on interest owed from that time he bailed you out of the drunk tank. Let's see: The hottest tablet on the market, complete with a high-resolution 10-inch screen and quad-core graphics engine, gifted from the person most directly responsible for his early-onset pattern baldness? Yeah, he's earned this Father's day tech gift, for sure.
Kindle Fire ($199.00)

If the iPad's a splurge, this tablet is a steal! If you go this route, Dad gets a fast, powerful tablet with access to millions of movies, shows, books and apps on a vivid touchscreen, and you get to save a little cash for next year's gift.

Give yourself the gift of no longer having to hear your father say, "Just what the hell is this Internet TV you kids keep talking about?" This starter set from Roku will make your father a believer, with 500+ channels, including Netflix, Hulu Plus, HBO GO and MLB.TV.

This skinny little speaker doesn't look like much, but it packs quite a sonic punch. It clips right to the back of a laptop and can fill a room with a 360-degree sound that will make Dad redefine his laptop as a mobile entertainment center. It's perfect for fathers who travel a lot, or for those who sneak off to watch "A-Team" episodes on Netflix while the rest of the family is keeping up with the Kardashians.

This handy fitness accessory is perfect for runner dads. The watch's GPS pinpoints locations and tracks distance and time for outdoor runs, while a built-in sensor with accelerometer provides the same data for indoor workouts. These features allow Dad to work out wherever he pleases, and you know he's going to love that.

If your dad loves golf (they all do, right?), then the SensoGlove can help him love it even more by using built-in sensors to measure the pressure of his grip and get a better swing from his clubs. You'll hear a lot of "I don't need a damn glove to tell me how to hold my club" grumblings, but he'll use it on the course religiously.

If you're feeling particularly mischievous (or malevolent) this Father's Day, then this is the gift for you. This alarm clock comes equipped with wheels, and after screaming to life with a series of beeps and flashes reminiscent of R2D2 on a meth-binge, Clocky will roll itself off the night stand and zoom around the room, beeping like a banshee, until your dad finally catches it (and presumably smashes it). Sartre said, "Hell is other people," but hell may in fact be Clocky. Face it: This is the best gift on the list, hands down.

And while you're shopping, don't forget that one of the best gifts you can give Dad is security. A new tablet is a great gift, but it will only be as good as the mobile security protecting it from harmful malware and viruses.

Now, where in the heck did Clocky run off to?

By Jamey Bainer