If you're a college graduate this year, you're likely gearing up to enter the great job hunt. But before you start tossing around resumes like they're graduation caps, remember this: Your personal information is as valuable as gold on the net, and potential employers who ask for it could be scammers digging for riches.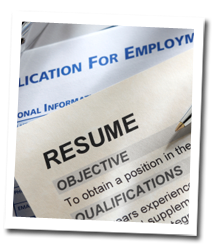 Fortunately, some basic security steps can help protect your identity in the midst of an already stressful job search.
If you give a scammer a phish….

Scams vary in complicity from all-too-obvious variants on the old Nigerian prince bit to polished, professional-looking – and fake – job postings. Here are five major red flags to look for:
Badder English no gud sign.
Email sent from a non-company domain – would a manager from a large firm really send you a message from dude.name@aol.com?
A job that's too good to be true. Sorry to break it to you, but you can't really make $700 a day from the comfort of your Cheeto-stained couch.
Application fees, premium starter kits or anything else. Don't pay for anything! You're trying to make money, remember?
Requests for information that's waaay too personal, such as banking or Social Security numbers, or a photocopy of your driver's license.
2000 ol>

In general, just do your research. Run the company's name – and its contact's name – through Google, LinkedIn and the Better Business Bureau before sending off your resume willy-nilly.

A clean resume is a safe resume




You want your resume to shine and show off your all-around awesomeness, but you don't want to give scammers enough information to hijack your credit report. Protect your identity by only listing the most basic of basic information on your resume: your name and email address. Create a secondary email address used solely for job hunting, just in case a would-be employer is really a would-be email harvester. Most of the larger job sites, like Monster.com, include optional privacy settings for resume postings. Use 'em!

Finally, don't be a jerk; keep your references' information off your resume, too.

Should you share social media login information?




An alarming trend has hit the headlines in recent weeks: Some potential employers are asking for Facebook or Twitter login credentials during a face-to-face meeting. They then browse through the social history while the candidates' sit there helpless, praying that they've deleted the beer bong pics from their undergrad days.

Whether you share the information is up to you, but the practice doesn't sit well with a lot of people. Senators are threatening to outlaw the activity, and Facebook has threatened to sue employers who logon to applicants' accounts.

Run a tight ship




Finally, most job searchers have phones or tablets that are chock-full of private contact details and files with sensitive information. If this sounds like you, make sure you're equipped with the best mobile security apps to protect your identity and keep scammers, phishers, spammers and other prying eyes at bay.

Following these tips will help you be upwardly mobile – without compromising your privacy – in no time.

By Brad Chacos