It's a righteous time to be a music lover. It's been a few years since radio, tune-conscious friends or hit-and-miss music store exploration were the only methods to feed your music addiction. And forget about peer-to-peer software that, while it seemed like a good idea at the time, only infested your music library (and computer) with malware.
While smartphone apps are nice, how much nicer is it to safely download apps onto your tablet? According to Rosetta, a consulting-centered interactive agency, in the first three to six months of tablet ownership people spend 32 percent of their time listening to music.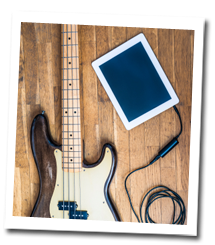 This honeymoon is particularly sweet because the bigger, brighter, crisper screen lends itself to a more awe-inspiring and multi-meteoric music experience. Developers have taken user cues and created music apps – like the following five – that thrill, educate, inspire and entertain.
PowerAMP (free)

Having access to your entire music collection is worthless without a music player. This Android app gets high marks for its "robust equalizer" and presets. It also offers an engaging, visual-centric way to browse your library. It's easy to "scrub" a song and fans are pretty crazy about the widget. (And isn't all about the widget?)

Tired of the same played-out genres in your archive? Music discovery apps make an obscure garage band in the Ukraine your favorite new find. This iPad and Android app is candy for the eyes as well as ears and uses a floating gaggle of color-coded bubbles to help you navigate artists you never knew existed. The bubbles reveal the genre and you can toggle and get lost in a brand new sound experience. It also has a radio feature.

If you can't for the life of you name that annoying ear-worm of a song in your head, this cool music app will help. Just hum, sing, speak, record, type or tap and not only will it tell you what the song is, but it will also provide artist bios and links to videos and an online store. Before you hit that purchase button, however, be mindful of malware and make sure you're in protected territory.

If you'd rather make music than archive it in nifty folders, SampleWiz for iPad may be the app that makes your foot tap. It offers three sampling modes: classic, granular and modern, and it's pretty darn easy to record samples (or multisamples) with the built-in mic. You can share your files with others, and you can also choose from a collection of synth sounds from Jordan Rudess, former keyboardist for Dream Theater.

If you're more of a sentimental, karaoke-loving music lover, this app will satisfy your desire to not only learn the synced lyrics you're listening to (in any language), but it will also share and talk about them with others. No longer do you have to wonder what an emo artist is mumbling. Now you can explicate his motives and conspire with someone across the globe.

As an aside, if you're a composer, artist or musicologist, check out this super comprehensive listing of music geek apps, including theory, notation, production categories and more.

Finally, while you're grooving to new genres like goth-hip-hop-funk-metal, be sure to mobilize your security efforts and protect your extensive collection of beats.

By Joy Keller