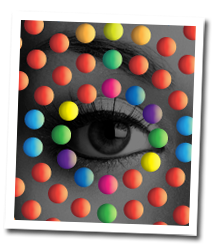 Thag dipped the sharp edge of a stone into a spit and charcoal mixture, pressed it against the cave wall and drew a picture of himself running from a stampede—and one of the first infographics communicating safety and security was born.
As likely descendents of Thag, we no longer run from the woolly mammoth, but we do interface with our own real threats. In today's data and information-laden world, Internet security issues threaten to tip the balance of our sanity and safety. A sobering, but necessary, illustration from Unisys shares that concerns regarding Internet security are growing fast, threatening to eclipse financial, personal and national security.
The above tidbit is the infinitesimal tip of the data and statistics available on how freaked out we are as a nation about data mining, phishing, e-mail security and a host of other modern-day woolly mammoths. But who has time to read the white paper? Dipping into data streams is like fishing with your bare hands. No thanks! Luckily infographics make the complex and crazy content that is Web 2.0MG easily digestible for the eyes.
Can information be beautiful?
In a letter-riddled nutshell, "infographics are visual representations of i 2000 nformation, data or knowledge." When complex information needs to be filtered through our maxed-out brains, data chieftains use talented designers or infographic resources to make lofty concepts accessible. A picture truly is worth a thousand words.
When it comes to Internet security, we need help. Words have lost their impact, and we need to be told the story of our collective safety ignorance in fairy-tale panels until we get it. The following infographics offer what data journalist David McCandless calls a "landscape we can explore with our eyes." Hopefully after seeing the pretty pictures of our peril, we'll be in a better position to let "the dataset change our mindset."
Bonus Infographic
By Joy Keller