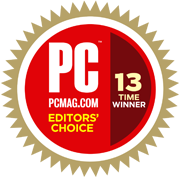 Enhanced anti-phishing protection and impressive malware cleanup earned it top scores.
-PCMagazine - Editors Choice
October, 2013
Competitive Benchmarking*
Installation Time
(seconds)

Installation Size
(MB)
Scan Time
(seconds)

Memory Usage During System Idle
(MB)

*Provided by Passmark 2013 ConsumerSecurity Products Performance Benchmarks (Edition 4), May 2013
SecureAnywhere™ AntiVirus
$
39
.

99
1 Year
for
1 device
per year - 1 device
Comparisons from our Users
5 out of 5 stars
from norton to webroot
"I was doing my everyday look around the web backed up by Norton and something hit my computer and held it hostage ... I switched to webroot and it is so very fast and I have had no problems."
- randall 10/19/2013
5 out of 5 stars
Webroot vs. Norton
"After years of using Norton products, I finally became disgusted with their slow scans and devestating use of system resources. I switched to Webroot, and I'm a happy camper now. Great product!"
- DannyZ 7/25/2013
4 out of 5 stars
Better Than Expected
"I had heard claims that Webroot could be overzealous at times, but I have yet to have any such experience with the product. It does its job, and thus far seems to be doing it quite well."
- Thunderbreath 7/29/2013
5 out of 5 stars
Best so far
"Fast scans, unobtrusive, picks up threats. I dumped Avast because it was bogging down my system. AVG became hard to manage. Not so here."
- Damun 1/1/2013
Webroot
Outperforms Competition

in Customer Satisfaction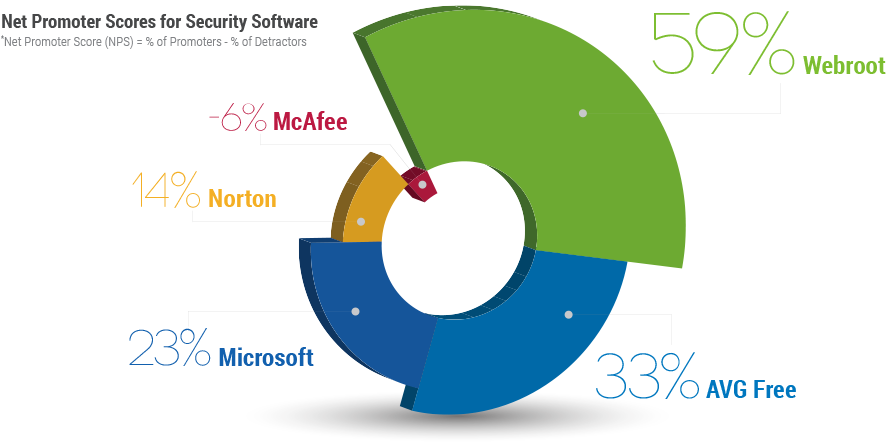 *The margin of error for the PC user study is ±1.5 percentage points and ±1.2 points for the Webroot customer study (95 percent level of confidence).