Senior Management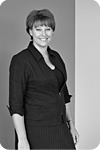 Melanie Williams, Vice President of Human Resources
Melanie Williams is responsible for designing and leading global human resources practices, policies, and operations at Webroot. She supports the company's performance with programs aimed at aligning business objectives with desired cultural behaviors. Areas she oversees include workforce planning, leadership development, employee compensation and rewards, internal communications, and employee engagement.
Williams has been with the company since 2008 and has held positions of increasing responsibility during its growth as a leading provider of cloud-based security solutions. Before joining Webroot, she was director of organizational development and quality service at the Kapalua Resort in Hawaii, where she successfully devised and implemented a company-wide change management and employee engagement initiative to increase customer satisfaction. She also managed human resources programs at Access Distribution, a GE company, which included the development of a rewards and recognition program that became the single program for all of GE Commercial Finance. In addition, Williams helped found Innovative Human Resources, one of the first recruitment process outsourcing companies in Denver.
Williams studied psychology at the University of Colorado Boulder. She holds certificates in mediation and organization development, and has maintained her Senior Professional in Human Resources (SPHR®) designation since 2006.