Today, media-savvy moms and dads are taking the name game to the digital arena. They're digging deeper through Google and Yahoo searches to find out information like how popular the name is and where it ranks in search engine results.
They're also scanning the Internet for first-/last-name combination viability—an exercise in due diligence that has hopefully deterred a few Torrance families from naming their sons Jack.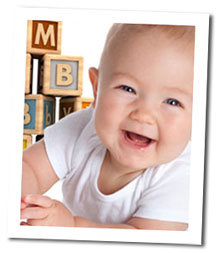 And, serving as the strongest indication of the times, parents are checking on the name's URL availability and then buying it if up for grabs. (Recommendation: Before purchasing the Web address, look at the name very carefully and make sure the words don't collectively spell something completely different than what is intended... just ask Pen Island.)
While some of you may question whether reserving your baby's domain name is even necessary, below are three reasons that are worth considering before making that decision:
1. You can create a blog that communicates your little one's news to family and friends.
This is a perfect opportunity to document your child's daily successes, major milestones and kids-say-the-darndest-things moments. Even better, [YourKid'sName].com will exist as a consistent, easily accessible place that loved ones can visit to get a quick update on how your baby is doing.
You can either write the blog from your perspective or swing it in baby's voice by filling it with cheeky-coated cliché musings (e.g.,"I turned three today and all I got was this lousy Big Wheel... where's my Porsche???"). Either way, you're providing an interactive platform on which people can leave comments for you and your child, link to their blogs and generally just keep in touch.
2. A secured URL will ensure branding opportunities and open doors for your child in the future.
When establishing a presence on the Web, the benefits clearly outweigh any of the risks involved. Your child's domain name is an integral tool to building his or her online reputation once the time is right.
Perhaps that means your kid creates a blog and covers topics like current events, school-related news, a unique hobby, etc. Take a look at Tavi Gevinson—this teenaged fashionista has parlayed her popular blog Style Rookie into a partnership with Jane Pratt of Jane magazine fame, and the two will be launching a web and print magazine this year. Not bad for a 14-year-old.
Another example of digital branding via your kid's URL would be to start an online portfolio of his or her accomplishments. Education, music, sports and art can, and should, all be represented on the site, including a resume of any work history. This website will be incredibly helpful when your senior starts applying to colleges and jobs after high school.
3. Owning your child's domain name allows you to exercise a moderate amount of reputation control.
Listen, you're out of luck if by some horrible twist of fate the moniker Ron Jeremy is an old family name and your baby is expected to keep the tradition alive. The notorious porn star already owns his self-titled URL. And even if he didn't, he has so much cyber traction it would be next to impossible for any similarly named person to leap ahead of him in search results.
However, in the event your kid shares the same name with an illustrious figure in the news of late, it would be a good idea to nab the URL if possible. By doing so, you've secured digital space to create positive content revolving around child. The point here is to combat the negative attention that's connected to the name and strategically outlast the scandal, thereby elevating your kid's presence in search engine rankings.
You can even take it a step further by reserving your child's social media handles on Facebook, Twitter and the like. Until baby turns 13-years-old, the legal age to engage on social media platforms, you can operate as his or her proxy, again producing positive content that separates your daughter or son from the infamous character making waves.
No doubt, the Internet is the 21st century version of the New World, with feverish parents striking out and laying claim to potentially valuable digital real estate: their babies' domain names. And while we don't yet know how that online world is going to look in future, for some, the $250 investment—the price of a .com address for 18 years—is worth the peace of mind.