Anorexia is a disease in which patients maintain dangerously low body weight and fear weight gain.
Discovering that your child has searched on an at-risk topic like anorexia, bulimia, cutting, suicide, bomb making, etc. can be unsettling, but searches do not necessarily mean there is reason to worry. There are many legitimate reasons for such a search, it could be for a school project, or perhaps they heard about a friend and are looking up information to know more about their condition and how to help them.
Start by looking at the types of sites being searched. Are they anorexia research sites that describe eating disorders and their symptoms? These are likely to dominate the searched sites if your child is trying to learn more about the disorder. Other sites actually promote eating disorders and are therefore more concerning.
Pro-eating disorder websites are defined as containing materials that describe and endorse self-abuse through starvation or purging, and support the eating disorders anorexia and bulimia. Because anorexia and bulimia go by the code names 'ana' and 'mia' these sites are often referred to in slang as pro-ana and pro-mia. These sites range from hard-core promotion of eating disorders with information on how best to deepen the disorder, to sites that provide a great deal of pro-recovery content - and many sites are a mix of both encouragement to those who want to participate and help for those that want out.
Next, sit down and have an open, gentle conversation to ask why your child was visiting sites about anorexia before jumping to conclusions. Note that a common misperception is that only girls struggle with eating disorders. While less common, males can also struggle with eating disorders so the same level of concern should be applied to both young women and young men.
If your child or teen is generally well balanced, active, eating healthy amounts of food and they give you a reasonable non-defensive explanation you are comfortable with things are probably fine; you can then use the conversation as an opening to a candid discussion about healthy self-image, and self-care. For safety sake, you should always keep an eye out for dramatic weight loss in your child or teen that is either obvious, or is being masked by the addition of multiple layers of clothing - a common tactic used by people with eating disorders.
On the other hand, if you find cause for concern, the rest of this article contains some information to get you started. Contact your child's primary care physician for further advice and help.
Pro-eating disorder sites typically list the benefits of being anorexic/bulimic, offer interactive communities where those with eating disorders can encourage and celebrate one another as they strive to attain and maintain their thinness goals, give diet tips (what to eat to stay under 700 calories a week!) and may provide 'buddy' services to pair one anorexic up with another.
Many of these sites have been created by people with eating disorders who "falsely believe that they are okay [and] falsely believe that anorexia is a lifestyle choice" according to Toronto-based National Eating Disorder Information Centre (NEDIC).
Identifying the websites your child or teen has visited is not the end of your digital discovery process.
Look into your child or teen's video viewing history. People with eating disorders seek out video sharing sites like YouTube where there are thousands of videos designed to encourage those with eating disorders in their quest to be thinner, plus tips and tricks for achieving their goals.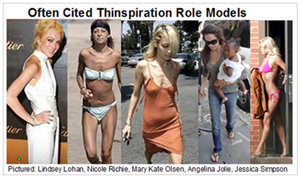 Review the songs in your child's playlists and ringtones. The music industry provides a large collection of music by famous and less famous artists with lyrics about, or promoting, eating disorders. You can find lists of music promoting the disorder, by typing in the phase 'music about anorexia', 'thinspiration music', or something similar into your search engine.
About 1% of young women and a smaller percentage of young men struggle with anorexia in the U.S. alone.
New research published in the Archives of General Psychiatry and billed as the largest and most comprehensive analysis of eating disorders, found that more than half a million U.S. teens have had an eating disorder but that few have sought treatment for the problemi.
In addition to those struggling with existing eating disorders many more youth, and adults, turn to these pro-eating disorder websites for 'thinspiration', support on losing weight, and dieting tips.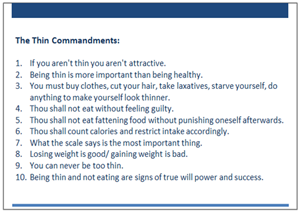 Thinspiration is defined as any content that inspires people to be thinner, and includes images and videos of (usually famous) thin women, children and men, as well as the music lyrics that discuss thinness and the disorder.
In addition to looking for motivation through pro- ana and mia sites, many also set their faith in the Thin Commandments, shown here.
Or strive to reduce their weight further by following the ABC diet (the Ana Boot Camp Diet).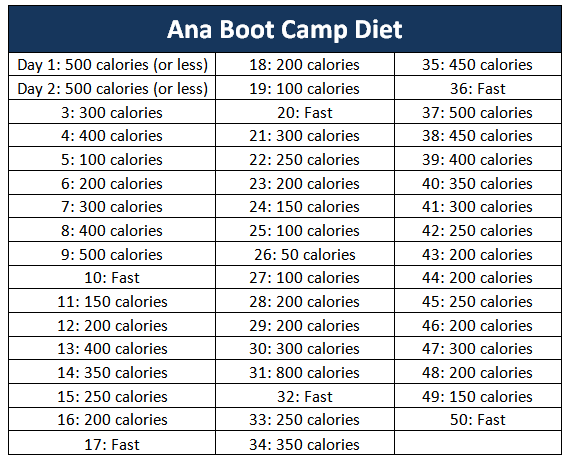 As the U.S. faces an obesity epidemic, and the media and fashion industries idealize size 0′s, we have created the perfect storm conditions for youth. The very fear of obesity is driving youth into eating disorders:
42% of 1st-3rd grade girls want to be thinner (Collins, 1991).
81% of 10 year olds are afraid of being fat (Mellin et al., 1991).
50% of girls between the ages of 11 and 13 see themselves as overweight
47% of girls in 5th-12th grade reported wanting to lose weight because of magazine pictures.

12

80% of 13-year-olds have attempted to lose weight
69% of girls in 5th-12th grade reported that magazine pictures influenced their idea of a perfect body shape.

13
If you remain concerned that your daughter or son may be struggling with an eating disorder, contact your child's primary care physician for further advice and help.

---
References
http://www.msnbc.msn.com/id/41955255/ns/health-mental_health/t/half-million-us-teens-have-eating-disorders/
1 Mortality in Anorexia Nervosa. American Journal of Psychiatry, 1995; 152 (7): 1073-4.
2 Characteristics and Treatment of Patients with Chronic Eating Disorders, by Dr. Greta Noordenbox, International Journal of Eating Disorders, Volume 10: 15-29, 2002.
3 The Renfrew Center Foundation for Eating Disorders, "Eating Disorders 101 Guide: A Summary of Issues, Statistics and Resources," 2003.
4 American Journal of Psychiatry, Vol. 152 (7), July 1995, p. 1073-1074, Sullivan, Patrick F.
5 Shisslak, C.M., Crago, M., & Estes, L.S. (1995). The Spectrum of Eating Disturbances. International Journal of Eating Disorders, 18 (3): 209-219.
6 National Association of Anorexia Nervosa and Associated Disorders 10-year study, 2000
7 Public Health Service's Office in Women's Health, Eating Disorders Information Sheet, 2000.
8 Substance Abuse and Mental Health Services Administration (SAMHSA), The Center for Mental Health Services (CMHS), offices of the U.S. Department of Health and Human Services.
9 Carlat, D.J., Camargo. Review of Bulimia Nervosa in Males. American Journal of Psychiatry, 154, 1997.
10 American Psychological Association, 2001.
11 International Journal of Eating Disorders 2002; 31: 300-308.
12 Prevention of Eating Problems with Elementary Children, Michael Levine, USA Today, July 1998.
13 The National Institute of Mental Health: "Eating Disorders: Facts About Eating Disorders and the Search for Solutions." Pub No. 01-4901. Accessed Feb. 2002. http://www.nimh.nih.gov/health/publications/eating-disorders/complete-index.shtml
14 Anorexia Nervosa and Related Eating Disorders, Inc. website. Accessed Feb. 2002. http://www.anred.com/
15 Nutrition Journal. March 31, 2006.
16 Neumark-Sztainer, D. (2005). I'm, Like, SO Fat!. New York: The Guilford Press. pp. 5.
17 The Renfrew Center Foundation for Eating Disorders, "Eating Disorders 101 Guide: A Summary of Issues, Statistics and Resources," published September 2002, revised October 2003, http://www.renfrew.org