free virus protection trial - Try Before you buy
Start your FREE 14-day trial today. No credit card required.
PC / Mac
Features
Lightning-fast scans with no interruption
Protect yourself from identity theft
No time-consuming updates
START FREE TRIAL
1 device / 1 year • change
PCs, Macs, Tablets or Smartphones*
Features
All the features of AntiVirus AND:
Secures your smartphones and tablets
Protects your logins and passwords
START FREE TRIAL
3 devices / 1 year • change
PCs, Macs, Tablets or Smartphones* +25GB Storage
Features
All the features of Internet Security Plus AND:
Eliminates traces of online activity
25GB of secure online storage
START FREE TRIAL
5 devices / 1 year • change
Start protecting your
PC or Mac for free
We know you have a lot of options to evaluate when deciding on internet security software. You want the product with the best performance, features, and functionality. We think you'll find that with Webroot.
That's why we're happy to offer free trials of our virus protection software, no strings attached for 14 days. So go ahead, start your free trial today.
Not All Virus Protection Is Created Equal: Why Free Isn't Better
As activities like shopping, banking, and financial planning continue to migrate to the web, cybersecurity stakes continue to rise. The features that help keep you safe - like password management, mobile security, and identity and privacy protection - aren't included in most free protection. When it comes to protecting you and your family's devices, you get what you pay for.
Award-winning protection and performance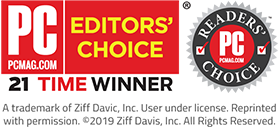 It installs in a flash, doesn't require signature updates, scans much more quickly, and takes a ridiculously small amount of space on disk. On top of that… an impressive protection job.
Neil J. Rubenking
PC Magazine Lead Analyst
*iOS device protection consists of a secure browser, backup, and password management. It does not scan iOS apps to block malware.
System Requirements
Microsoft® Windows® XP 32- and 64-bit SP2, SP3 
Windows Vista® 32-bit (all Editions), Windows Vista SP1, SP2 32- and 64-bit (all Editions)
Windows 7 32- and 64-bit (all Editions), Windows 7 SP1 32- and 64-bit (all Editions)
Windows 8 32- and 64-bit
Windows 8.1 32- and 64-bit
Windows 10 32- and 64-bit
Mac OS X 10.7 (Lion®)
Mac OS X 10.8 (Mountain Lion®)
OS X 10.9 (Mavericks®)
OS X 10.10 (Yosemite®)
OS X 10.11 (El Capitan®)
macOS 10.12 (Sierra®)
macOS 10.13 (High Sierra®)
macOS 10.14 (Mojave®)
macOS 10.15 (Catalina®)
Intel® Pentium®/Celeron® family, or AMD®K6/Athlon™/Duron™ family, or other compatible processor
128 MB RAM (minimum)
10 MB Hard Disk Space
Internet access
Google Chrome® 11 and newer
Internet Explorer® version 11 and newer (Windows XP IE8)
Microsoft Edge® (partial support)
Mozilla® Firefox® version 3.6 and newer
Safari 5 and newer
Opera 11 and newer
Android & iOS Requirements
Android™ devices:
Android operating system version 4.4 (KitKat) or higher
Android-compatible device with 3 MB of free storage space
Data connection required
Apple® devices:
SecureWeb Browser and Password Management require iOS® 10 or later
Backup and Storage supported on iOS® 10 or later
Compatible with iPhone®, iPod touch®, and iPad® mobile digital devices
PC & Mac Requirements
Microsoft® Windows® XP 32- and 64-bit SP2, SP3 
Windows Vista® 32-bit (all Editions), Windows Vista SP1, SP2 32- and 64-bit (all Editions)
Windows 7 32- and 64-bit (all Editions), Windows 7 SP1 32- and 64-bit (all Editions)
Windows 8 32- and 64-bit
Windows 8.1 32- and 64-bit
Windows 10 32- and 64-bit
Mac OS X 10.7 (Lion®)
Mac OS X 10.8 (Mountain Lion®)
OS X 10.9 (Mavericks®)
OS X 10.10 (Yosemite®)
OS X 10.11 (El Capitan®)
macOS 10.12 (Sierra®)
macOS 10.13 (High Sierra®)
macOS 10.14 (Mojave®)
macOS 10.15 (Catalina®)
Minimum Requirements
Intel® Pentium®/Celeron® family, or AMD®K6/Athlon™/Duron™ family, or other compatible processor
128 MB RAM (minimum)
10 MB Hard Disk Space
Internet access
Google Chrome® 11 and newer
Internet Explorer® version 11 and newer (Windows XP IE8)
Microsoft Edge® (partial support)
Mozilla® Firefox® version 3.6 and newer
Safari 5 and newer
Opera 11 and newer
Android & iOS Requirements
Android™ devices:
Android operating system version 4.4 (KitKat) or higher
Android-compatible device with 3 MB of free storage space
Data connection required
Apple® devices:
SecureWeb Browser and Password Management require iOS® 10 or later
Backup and Storage supported on iOS® 10 or later
Compatible with iPhone®, iPod touch®, and iPad® mobile digital devices