It seems like just yesterday we were making New Year's resolutions to eat healthy, get in shape for the summer and take better care of our bodies. Since then, it has been a wonderful six months of ignoring those resolutions and scarfing down French fries and deep-fried, bacon-wrapped candy bars for lunch.
But guess what, Gidget? Summer is coming. In fact, it's pretty much here, and you don't have a lot of time to atone for your gluttony and tone up your body.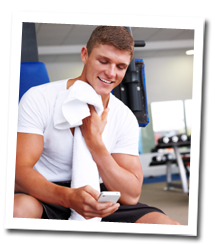 Don't despair: You can still act to make sure people are paying compliments to your killer swimsuit-body rather than passing judgment on your life decisions. And you'll have help; these handy mobile apps can get you in shape for summer and keep you healthy all year long.
Let's move!
The first thing you need to do is burn off some calories, so you'll need a good fitness app to transform your smartphone into your own personal trainer.
Nike+ ($2 for iPhone) and Runkeeper (free for Android, iPhone) can help you track the progress of your workouts by distance, time, pace, calories, heart rate and path traveled on a map. Nike+ can even arrange for you to hear encouraging cheers whenever a friend likes or comments on your run status.
Along with a specific running/swimming/yoga/whatever-app, it's a good idea to arm your smartphone with a trainer app that can give you the big picture-view of your overall fitness regimen.
Try Gym Buddy ($2.99 for iPhone), which will give you a streamlined platform to track workouts, body measurements and weekly or monthly exercise schedules stored on a fitness-specific calendar.
If your schedule doesn't allow for this kind of fitness-freak dedication (or your motivation's waning), you can always sneak in a quick bit of cardio with the Daily Cardio Workout (free for Android, iPhone). This will provide you with two 5 to 10-minute daily routines that will walk you through cardio exercises to keep fit even when you're pressed for time.
You get out what you put in
You can only get so far with exercise; long-term (or at least summer-long) physical improvements require healthier diet choices. Luckily, this is another area where mobile apps can help you get in shape for the summer and stay that way.
MyFitnessPal (free for Android, iPhone), with a database of over 1,100,000 foods, will provide you a comprehensive calorie counter to track how many are coming in and how many you need to burn off as a result.
Lose It! (free for Android, iPhone) offers a comprehensive fitness-tracker to monitor your diet, workouts and weight loss from one platform. It also provides the versatility of being programmable to any individual diet plan or exercise regimen, so this mobile app can help you set your own pace rather than be stuck on a plan that doesn't work for your needs.
Only the strong survive
Bear in mind that while these apps are great, they can only keep you healthy if you take the time to keep your smartphone healthy. Make sure your mobile security is as tight as your six-pack is (or going to be after a few more workouts). Now get those gym shorts on, start pumping that embarrassing workout music playlist and strut your stuff all summer long.
By Jamey Bainer