Ah, the glory of baseball season: consuming gargantuan hotdogs, overpriced beer and endless peanuts while rooting for the home team (and hoping the loud guy next to you gets pegged in the face by a stray foul ball).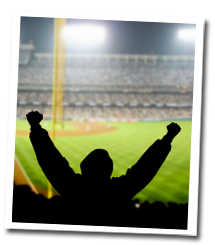 The enjoyment of the sport has been enhanced by the wealth of mobile apps that help you track the progress of your fantasy team or whip up classic trivia for the 7th inning stretch.
But you may need to keep a closer eye on your mobile security the next time someone takes you out to the ballgame. A ballpark is a great place to watch a game, but take caution how and where you use your mobile device there.
Because when malware wins, it's a shame.
Don't be fooled by the fantasy
Protecting your mobile technology at the ballpark starts with what you bring into it. While your favorite player's focused on "being the ball," you should focus on being your own antivirus.
Apps that help fans track multiple games for their fantasy baseball leagues have become wildly popular, and you can now spend the slow moments at your own home team's game checking in on the progress of your fantasy players. But the popularity of these apps has spawned a wealth of imitators created by hackers whose intention is to install malware on your smartphone. You're better off paying for an app like MLB.com At Bat than running the risk of downloading a pirated version that could leave your smartphone wide open to hackers and thieves.
Help! My smartphone left with the away team!
By the same token, mobile security at ballparks ends with what you leave with, and there will inevitably be one game this season where you manage to leave without your smartphone. Save yourself from panic mode by taking a few easy steps to protect your smartphone in the event that it falls into the other team's hands:
Password-protect your device.
It sounds so simple and obvious, and yet, so many of us neglect to do it. And it really is easy. Just go into your setting options and the device will walk you through the process from there.
Remote-lock and remote-wipe your device.
These days, there are quite a few services and apps that can help you lock or even erase your device from afar. Take these steps, along with backing up your photos and address book at home, and a lost phone at the ballpark becomes a minor annoyance rather than a major crisis.
Hit a mobile security homerun every time
Just as an all-star lineup will carry a team to the World Series, you want to provide your devices with the best mobile security in the game. Keep in mind that mobile malware use spiked 155% in 2011. Our mobile devices have become the big show for hackers and criminals, and while a great ballpark can be the site of so much joy and excitement, it can also leave you open to security threats even scarier than your team blowing a 5-run lead in the 9th.
Just keep an eye on your security like you do on that fantasy league, and you'll be home free.
By Jamey Bainer