Most social surfers know Tumblr for its mad meme-proliferation skills, but the blogging service's image-intensive nature also plays into the hands of Trekkies, Tolkienites and other fantasy lovers who blend zealotry with impressive Photoshop skills.
Whether you're a "Prometheus" protégé, worried that "Winter Is Coming" or simply want to learn more about stabby-swordy things, this list of the top 10 Tumblrs for sci-fi/fantasy is sure to intrigue.
Do you like George R.R. Martin's "Game of Thrones"? Of course you do. But do you really, really like "Game of Thrones" – enough to spend your days composing songs about charming dwarves and drawings of charmed barbarians? If so, you'll fit right in at this Tumblr blog where you can send in pics, musings and music about all things Westeros.
Meghan's 60-year-old mom also watches "Game of Thrones." She makes funny observations, which Meghan duly catalogues in this moms-say-the-darndest-things blog.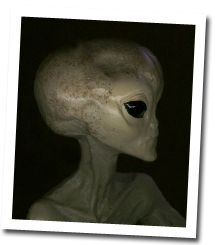 With a name like that, how can you go wrong? This blog almost deserves two entries in the list of the top 10 Tumblrs for sci-fi/fantasy, since GeekTrooper casts a wide net and covers both sides of the great divide, frequently posting hilariously geeky pictures that both sword swingers and laser lovers will die over.
The name says it all: Here we have pictures from "Prometheus," the Ridley Scott prequel to "Alien." The images range from behind the scenes to wonderfully creepy shots. And let's not forget the audibly "graphic" sound bite playing in the background.
This Tumblr catalogues the film adaptation of the popular sci-fi novel "Ender's Game." All but guaranteed to be the next sci-fi blockbuster, this site is the perfect place for hardcore Formic War fans to scratch their itch until the film is released next year.
"Walking Dead"fans love the show for two things: zombies and Dale's zany facial expressions. This top 10 sci-fi/fantasy Tumblr covers the latter, and it's as awesome as it sounds. Of course, you could always turn to the CDC's own zombie apocalypse survival guide for a more general zombie-slaying diversion… or to a best-in-class mobile security product to prevent your tablet or smartphone from becoming part of the zombie horde.
Here lies everything you could ever want to know about swords. No, seriously. This Tumblr's full of interesting info and pretty pictures of pointy objects of all shapes and sizes.
What the Game of Thrones Tumblr does for fantasy, Shopped Sci-Fi does for, well, sci-fi. Ever wonder what Johnny 5 from "Short Circuit" would look like as a Civil War general? Wonder no more. And watching Yoda break dance will make you weep in a good way.
The "X-Files" film spinoffs veered quickly into wonky territory (particularly that last one), but this Tumblr allows the dedicated X-phile to relive the television show's greatest scenes, including all those moments of quietly smoldering chemistry between Mulder and Scully.
Sometimes, you just don't feel like clicking through pages of pictures dedicated to the fashion of Star Trek: the Next Generation; sometimes, you just want to watch an interesting show. Geek and Sundry brings you all the newest geek-tastic video creations from the geniuses behind "The Guild." Highlights include a sci-fi/fantasy book club hosted by Revision 3 web stars, and a show dedicated to tabletop gaming brought to you by none other than Wil Wheaton (a.k.a. ST:TNG's own Wesley Crusher).
It's fine to gorge on all the sci-fi and fantasy Tumblr has to offer, but we weren't kidding about those zombie hordes threatening your mobile security. Make sure you take the necessary steps to let your smartphones and tablets live long and prosper.
By Brad Chacos