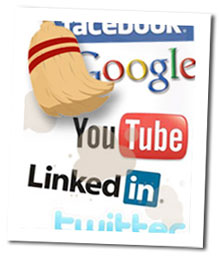 Join today's social media revolution without any false steps.
But, unless you're planning to organize a revolt against an authoritarian regime, there are some limits to your social media activities you might want to consider — say, if you have something more mundane in mind, like finding a new job. Here are some ideas to help you walk the straight and narrow and avoid regrettable steps on the pathway to social networking nirvana:
Facebook and Twitter. The simplest rule to follow is this: If you don't want to be perceived as outrageous, don't post anything outrageous or in poor taste. If you do want to let it all hang out, be sure to set your Facebook privacy settings so that only your most trusted friends can see you strut your stuff. Otherwise, prospective employers (or potential romantic liaisons) might be put off by off-color comments or tales of intemperate exploits. If you submit a resume for a job, the HR department is bound to check out your online I.D. If need be, clean up your act before it's too late! And even if you like your present gig and don't want to make a change, keep in mind that your current employer may also check in to see what you're up to after hours. Just think of Ashley Johnson, the Charlotte, North Carolina, pizza waitress who lost her job after her manager saw her status update grousing about a substandard-tipping cheapskate who also happened to be a regular customer. According to the charlotteobserver.com, "She's not the first Facebook user to get in trouble with the boss over inappropriate comments or pictures on their pages."
Of course, the same warning holds true for Twitter, Google, Yahoo, YouTube, and other social hangouts. According to switched.com, some 63 percent of HR recruiters check into the social networking sites of job applicants, and seven out of ten have rejected potential hires due to activities discovered.
Here are some things to consider when creating your online profiles:
Profile Pictures. Use one (fully clothed, please). Preferably a headshot. If employment is an objective, make it a serious, professional photo.
Settings. When possible ratchet your privacy settings to allow only trusted friends to access personal information or photos that don't put your best face forward.
Personal Information. Restrict access on a "need-to-know" basis. If your access is on the open-ended side of things, think twice before "liking" groups or joining causes that might be construed as controversial or bizarre (e.g., Ex-Cannibals Alliance).
Your Window to the World. Keep your status updates and Tweets safe and sane if you're job hunting (or even if not). Clean up and remove old posts that might be incriminating. And remember, when all else fails — or if you have boisterous friends who might make you look bad — you can always disable your Facebook Wall until you're safely employed or tenured.
Your Afterlife Online. Not to get morbid, but know this: Us humans do not (yet) enjoy eternal life, but your online identity might last an eternity — unless someone steps in.
Since you'll no longer be looking for work, you might wish to go offline. Just be sure that someone who cares has your user name and password so he or she can log into your Facebook account settings and trigger the 14-day account-deletion waiting period. If nobody logs in for 14 days, the account will be removed. Alternatively, upon request Facebook will freeze an account and allow friends and family to set it up as a lasting memorial.
LinkedIn. For starters, make sure you only have one profile. Sometimes people start a profile under one name or email address, abandon it for lack of need or interest, and then come back years later prompted by a career move to revisit the LinkedIn experience. Starting anew, one might forget to obliterate the old, which can confuse potential employers and contacts. And speaking of contacts, get as many as you can. The larger your universe, the greater your exposure to new opportunities. Other LinkedIn basics to ponder include:
Your Profile. Complete it (100%) and keep it up to date. Refresh your information and status regularly because many of your contacts will receive email updates noting new activities in their network. It's a good way to keep you "top-of-mind" with your LinkedIn colleagues. Also, be sure to include a good, professional headshot, preferably one that you use on other sites such as Facebook, Twitter, et. al. (just like in advertising, repetition is a good way to increase brand awareness — and you're the brand!).
Skills. Highlighting Skills and Specialties gives potential employers a fuller picture of your unique capabilities, and, the keywords you use also attract automated systems that scan for desired traits.
Recommendations. Of course, the more the merrier. Solicit them from former colleagues and employers as appropriate.
Connecting. Make it easy for colleagues and employers to contact you through multiple channels. Include your email, phone, personal website, blog, IM, VoIP — whatever it takes. Add your LinkedIn public URL to your email signature line when in job-searching mode. If applicable, link to status updates from Twitter, Yahoo!, Buzz, and other linkable sites.
Google, Blogs, Comments, and More. Again, if you want be provocative or outspoken, but not necessarily held accountable, use a nom de pixel or go anonymous when commenting on blogs or news sites or setting up a YouTube channel. The number one research tool for hiring managers is still one of the oldest: the search engine. Whether it's Google, Bing, or Yahoo!, search for yourself from time to time to see what you can turn up. If any inaccuracies are found, try to clear them up at the source (for instance, if an old job is still listing you as one of their key players, ask them to take you off the website). Also, you'd be surprised to learn how many people out there might share your name. If worse comes to worst, you can always try to pin inappropriate online behavior on a namesake doppelganger.
Ready for some fun? See how you score on Webroot's Social Media Sobriety Test.