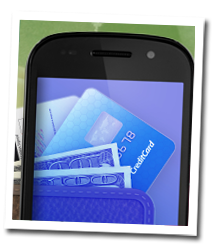 When was the last time you cleaned out your wallet? How many used ticket stubs, old Best Buy receipts and dentist appointment reminders did you find? The wallet is more than just a place to carry cash and cards; it's a catch-all for life's dull moments. If you long for a more streamlined existence, consider trading in your actual wallet for a virtual one, because mobile payment technology is driving commerce. Fast.
This has been a healthy year for mobile payment technology, and it's projected to grow. The combined market for all types of mobile payments is expected to reach more than $600 billion globally by 2013. That's a lot of digital coinage.
How will digital wallets change the way you purchase goods and services? One thing's for sure, you'll no longer need a murse to carry the accoutrements of modern life. If major mobile payment players have their way, your smartphone will be all you need to buy another smartphone.
The world of mobile payments
Mobile payments include numerous types of transactions, but let's focus on mobile at the point of sale (POS). The idea is that these digital wallets, in cahoots with near-field communications (NFC), a short-range wireless technology that allows you to pay for goods by swiping a device, will replace the physical billfold or pocketbook.
MobilePaymentsToday predicts that an avalanche of mobile phones will encourage consumers to adopt the system, citing the IDC projection that one billion smartphones will be shipped globally by 2015, way upping the ante for mobile payments. It's a big, big world out there for mobile payment madness, and we're just getting started.
The down-low on digital wallets
While NFC technology isn't the only way to utilize mobile payments (you use this platform when you purchase a ringtone from your phone), if you want to use Google Wallet, for example, you need a device that has the NFC chip in it. The retailer also needs to have a POS terminal.
Speaking of Google Wallet, it was the first to come to market with a smartphone that has the technology the Samsung Nexus S on Sprint Nextel. Other key players include ISIS, a joint venture with AT&T, Verizon Wireless, and T-Mobile, Square, PayPal, numerous credit cards and banks, as well as Veriphone. So you can bet that more NFC-enabled devices will come out tomorrow.
Pros (besides diminishing the need for an actual wallet):
Location services help you find the best prices for an item and give you a coupon on the spot.
The technology is moving toward storing travel ticket information and other important documents.
You can analyze and control costs/budgets in real time.
Cons:
Not all retailers are on board yet.
Only a select few phones currently have the NFC technology; however, that's slated to change.
There are concerns about security (more on that below).
Bitcoin mining
What would a digital wallet be without digital currency?
While still a tad on the periphery, bitcoin, an "anonymous, decentralized digital currency" created by a Japanese programmer in 2009, deserves a mention. You don't need a bitcoin to make mobile payments; it's simply an alternative to dollars. You "mine" and send these digital coins through the internet by running a free program called Bitcoin Miner.
Mining requires a set amount of work for one bitcoin, which is pre-determined by a network to keep it "predictable and limited." You keep bitcoins in your digital wallet and can buy anything with them - as long as the other person accepts them. Some examples of things you can purchase include T-shirts, chemicals, musical instruments, virtual art and countless other products and services.
The value of the bitcoin—which is as legitimate as any peer-to-peer currency - has ranged drastically, but as of publishing date one bitcoin was worth about $7. A $21 million cap makes the mining process an interesting one, and affects value.
Does a decentralized, hard-to-tax currency that doesn't weigh down your pockets sound appealing? Here are some advantages and disadvantages to take note of.
Pros:
Bitcoins are traded person to person with no middle man.
It's an international currency.
Transaction fees are pretty much nil.
Cons:
Exchanges can be challenging due to transaction scripts.
Since bitcoins are traded publicly, privacy issues can arise.
Bitcoins aren't backed by anything and aren't insured.
Keeping your digital wallet close
So should you toss your wallet in the compost pile? Not quite yet. Those in the know predict we're about five years from full-fledged implementation. Security issues, among other challenges, need to be hashed out.
Consumers are still dealing with the fear that comes from swiping an actual card, so it's not likely that NFC is going to take the edge off those jitters, no matter how "lockable" and encrypted the digital wallet is. Cyber criminals no doubt are already figuring out ways to capture the information that is transmitted through the air, sans contact with a strip.
As all areas of life become more mobile, take care of your digital wallet in a similar way you would your actual wallet. Instead of double-checking to make sure your billfold is ensconced in a backpack, purse or man-bag, rely on mobile data security to keep you protected. It's the best way to keep your financial information safe from invisible hacker "mitts" reaching in to steal your ducats.
By Joy Keller