Summer is the season of relaxation, but it's also an apprehensive time for much of the United States. This is the peak time of year for natural disasters like hurricanes and tornadoes to strike. From New Orleans to Joplin, Missouri, it's hard for many of us to kick back and enjoy the summer without thinking about what might go wrong this year. And if you live on the West Coast, you get to enjoy four seasons' worth of constant paranoia, waiting for the next earthquake, tsunami or wildfire to hit.
The good news is advances in mobile technology and social media have not only made it easier for us to track natural disasters and severe weather events but to survive them as well. You've probably jokingly referred to your smartphone as a "lifesaver" before, but the current crop of disaster-related apps can actually save your life. Here are a few must-haves: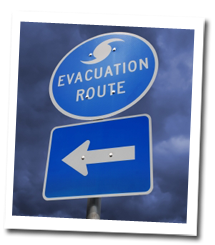 1. Plerts (free for iPhone, Android, Blackberry; premium subscriptions also available):
Upon launch, Plerts will begin transmitting audio, video and GPS coordinates to a network of secure servers to aid in your rescue.
Plerts sends an SOS message and an automated conference call to everyone in your emergency contacts list.
The mobile app can detect a fall, impact or 5G stop and send out an emergency alert, unless you tell the app you're OK within five seconds.
The download is free, but if you opt in for the premium service, you can get health care and emergency services covered by Lloyd's of London.
Sends a pre-programmed disaster plan to your friends and family (Multiple plans can be developed and stored for earthquakes, tornadoes, terror events, etc.)
Forwards your location to others based on your phone's GPS
Quick one-touch access to 911 and pre-programmed phone help
Reports National Weather Service alerts for your area
Alert notifications (lights, bell, vibration) can be modified based on the type of weather disaster coming your way (e.g., turn vibrate up to 11 so it shakes like crazy before a huge temblor hits your town).
Email, text or post alerts to social media so friends have enough time to take cover.
Along with mobile apps, social media has become a powerful tool for distributing aid and information during natural disasters. Earlier this year, authorities in the Dallas-Fort Worth area used Twitter to issue tornado warnings and keep residents informed of severe weather patterns.
The Federal Emergency Management Agency (FEMA) has also begun using Twitter and blogs to provide tips, guidelines and information related to disaster preparedness, including how to use your cell phone before, during and after a natural disaster.
One important thing to remember is that not all disasters are natural. A hacked or malware-infested smartphone could render these lifesaving apps useless in a catastrophe, so be sure to protect your smartphone with the best mobile security you can find. Once you've got your apps, your plans and your mobile security protection in place, you may actually be able to enjoy the summer season for a few minutes. Until the big one hits, that is.
By Jamey Bainer