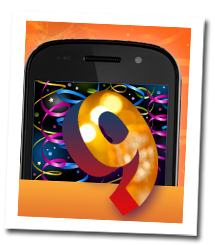 It's December 31, 2011. You're minutes away from midnight, miles away from the nearest party, and once again, you've completely blanked on the lyrics to "Auld Lang Syne." Who will save you from another squandered chance at New Year's glory? Your smartphone will! Or more specifically, these handy New Year's apps will help your phone transform you from the most inept midnight reveler into a full-on party machine.
Apps to get you to the party
Taxi Magic (iPhone, free)
Nothing can ruin a New Year's Eve faster than realizing you need a taxi to get to the night's wildest bash... and that you ain't gonna find one. This award-winning and highly praised app can help. With a few taps, find nearby taxis, contact a driver, track the arrival of your cab and charge the ride to your credit card. Unless, of course, you enjoyed last year's experience of spending an hour on hold with the cab company while your date stormed off and your wasted friends threw up on your shoes. In that case, have fun starting off 2012 desperately ringing up ye auld taxi service.
Dubset (iPhone, free)
You're at the main event and the crowd's not feeling the music? Save the dance party with Dubset. Unlike Pandora, whose internet radio algorithms can get a bit predictable (why does every single rock/indie act's station end up being 65% Johnny Cash songs?) Dubset offers stations curated by some of the world's top DJs. Leave the playlists to the pros and you'll be in for a good night.
Pocket Cocktails (iPhone/Android, $0.99)
Let's see, what else did we need to get the party started? Ah yes, BOOZE! There are many fun mixology-related apps out there, but Pocket Cocktails may provide the best imbibing guide yet. In addition to recipes, tips and trivia, each cocktail is accompanied by a full-screen photo. These reference pics will prove useful once your alcohol consumption has far outpaced your fragile mixologist "skills." Hint: If your Blue Hawaii didn't turn out blue, you're doing something wrong.
Countdown to midnight...
New Year's Blowout Horn! (iPhone, $0.99)
If you're still looking for the perfect New Year's apps to get your friends into the spirit of the night, or potentially annoy the hell out of them, this one's for you. Blow into the microphone for full effect, and watch your horn unroll on-screen. The updated version for iPhone 4 even shows you where to blow! If anyone else at your NYE event offers to show you the same thing, run!
Hipstamatic (iPhone, $0.99)
When it comes to New Year's apps that will capture the moment, it's hard to beat Hipstamatic. This photo app will easily lend your 2011 send-off an air of retro-chic. Even if the "send-off" is just you, your two cats, and a stale bottle of Martinelli's Sparkling Cider, Hipstamatic will transform you into the ultra-cool icon of a bygone era.
Webroot Sobriety Test (iPhone/Android, free)
Let's face it: your fellow hard-partying companions will not be able to tell when you've had one too many. That's why it's a great idea to have a handy New Year's app available to test your own sobriety before the nice ociffer offers to do it for you. The Webroot Social Media Sobriety Test presents a series of challenges to your motor skills, balance and reaction time to guide you towards making good choices (call a taxi) or even better choices (back to the bar for one more round of shots, then taxi) this New Year's Eve.
Times Square Official New Year's Eve Ball App - 2012 (iPhone/Android, free)
We can't all be in Times Square at midnight, and many of us don't really want to be. But there is something to be said for the grand nostalgia of watching that ball drop while all those frostbitten, half-crazy people cheer and shout through chattering teeth. This app, updated for 2012, will allow you to share that magic moment from the comfort of your own cozy New Year's Eve event, miles away from the thousands of Times Square denizens aiming to be cast as this year's versions of Snooki and The Situation.
Apps to greet 2012 with
Hangover Cures (Android, free)
Conventional wisdom states there are only two true hangover cures: 1) more booze; 2) more sleep. But for those of you desperately searching for a cure-all miracle on New Year's Day, Hangover Cures offers a wealth of remedies that you just might be ill enough to try. Will that raw egg-maple syrup-cayenne pepper concoction really kill your hangover? Who knows, but we can't wait to see you try it!
PeerPressure for Goals (iPhone, free)
This one's for those who like their New Year's resolutions served with a side of social media masochism. This app allows you to enlist your entire social network to become your cheerleader/guilty conscience as you struggle to make those resolutions a reality. What's better than letting everyone on Facebook and Google+ know that you still can't quit smoking? Nothing!
Of course, since things do tend to get a little out of hand on New Year's Eve, the most useful thing you can do to guarantee an enjoyable 2012 is to make sure your phone's mobile data security is up to date. And don't get carried away with that New Year's Blowout Horn; you want to start off 2012 with a few friends left, after all!
By Jamey Bainer