Hey, sports buffs: Major League Baseball recently began pitching a curveball at fans with a new game-within-the-game. Can you guess which one it is?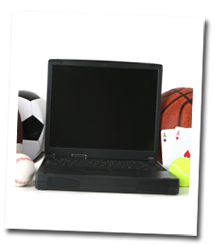 Pin the Hollywood starlet on A-Rod
Hide the HGH
Rock 'em Sock 'em BoSox, starring Kevin Youkilis and Bobby Valentine
Sorry, suckers! Just like the 1919 World Series, this game was rigged; the real answer was D) blending gamification and sports by adding "player badges" to the MLB Gameday website to reward followers watching action happen live. (Live online, that is.)
MLB's Pokemon-esque gotta collect 'em all! badges are only good for bragging rights, but other sports organizations are starting to hand out physical goodies for your virtual loyalty. How can you get in on the action?
What is gamification?
Gamification stokes user engagement by turning boring everyday occurrences into (hopefully) awesome addictive adventures with the help of reward systems such as badges, trophies and leaderboards.
For example, Foursquare transforms your mundane Starbucks run into a quest for a "Barista" badge and a tooth-and-nail deathmatch against other caffeine junkies for mayorship of the coffee shop. Even LinkedIn's progress bar showing your profile's completeness is another example of gamification. By seeing how far away their profiles are from being completed, many members are motivated to go all the way to earn access to LinkedIn's advanced features.
Gamification and sports
Social media services like Foursquare, FarmVille and Facebook check-ins may have jump started the craze, but gamification and sports went hand-in-hand waaaaaaaay before "gamification" was even a word. Fantasy football kicked off back in 1963 and look what it brings to the playing field:
Rewards (in the form of points)
Leaderboards
Challenges between users
Bragging rights
IRL, the Washington Redskins and the NFL have teamed up with Foursquare in the past to offer location-based badges that included steep discounts to their respective shops.
And the National Hockey League's L.A. Kings one-ups the NFL with a gamified scheme that showers its most rabid chest-thumping fanatics with exclusive gear and goodies. Kings fans earn points on the team's website just by doing the kinds of things sports fans would normally do: repeatedly posting scathing rants about the suckiness of the opposite team, watching highlight reels, spamming social media networks with team news, etc., to net virtual badges and a journey up the Kings' leaderboard of the diehard-est of the diehards.
It gets even better: If you earn enough points, Kings players will send you signed swag and personal messages, and you could even end up with a private tour of the Staples Center.
Speed freaks jonesing for race tickets and the opportunity to go face-to-face with their favorite drivers can turn to NASCAR's "Racepoints" program, but those tight-fisted Scrooges only give you Racepoints if you drop cash at participating retailers.
Every game has a loser
Unfortunately, we're going to have to throw a yellow flag and slam the brakes on gamification's victory lap.
Gamification requires a hefty dose of technology, and a lot of gamified services lean especially heavily on mobile technologies. You can't be the mayor of the Chicago Cubs' hot dog cart if you're not at the hot dog cart, after all, no matter how much you love its celery salt.
But while you're busy checking in on your tablet or smartphone to earn some free swag or the "Celery Salt" badge, malware peddlers and all-around creeps could be tracking you down via geotags or trying to figure out a way to breach your defenses and claim your hard-won rewards for themselves. The addition of tangible, valuable goods – be it L.A. Kings tickets or discounts for Foursquare Mayors -- only makes you an even more juicy target – a fat, hanging curveball waiting to be slammed out of the park.
Webroot's mobile and tablet security products provide anti-virus protection that keep badge-sniffing malware at bay, no matter where you are. Don't strike out – swing for the fences. (And the free stuff.)
By Brad Chacos