Graduation season is just around the corner, and nothing says, "I am Johnny's coolest relative!" quite like the gift of a mobile device. Be it a smartphone or tablet, your accomplished loved one will use it for work and play – and if all goes well, to call or Skype you.
Whether your friend or family member is completing high school or college, the following tablet and smartphone graduation gift ideas offer versatility within a range of prices.
iPad
While the the new iPad might not be within everyone's reach, with its eye-popping price tag of $499 to $829, it arguably offers the best user experience out there, with its 3.1 million pixels, thanks to Apple's new A5X Chip technology.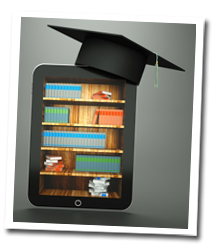 Looking for a more affordable Apple? The iPad 2 is hardly out of date, and deals on refurbished products are prime for the picking.
Samsung Galaxy S III
The predecessor of one of the most-anticipated smartphones out there has sold over 20 million units worldwide and was awarded "Best Smartphone" at the Mobile World Congress 2012. Needless to say, tech geeks are on pins and needles waiting for May 3 when the Galaxy S III bursts onto the market, because if predictions come true, this phone will be among the most popular of the year.
Pros
Its Touch technology is believed to rival the top phones in its category – iPhone 4S and HTC One X. The S II has been praised for its ease of use, so it's safe to say that S III would be a great first smartphone for that high school grad in your life.
It offers multiple carrier options, including T-Mobile, Sprint and AT&T.
Cons
The phone isn't out yet, so we know few specifics other than information that's been leaked. Speculating on its awesomeness isn't out of the question, but you'll just have to wait and see when the phone comes out next month if it's the right gift to give.
Prices have not been released either.
Amazon Kindle
There are now seven makes of the popular e-reader that comprise the Kindle, Kindle Touch, Kindle 3G and Kindle Fire family, so there's bound to be one that fits the "perfect graduation present" bill. They come in Wi-Fi only or Wi-Fi plus free 3G options for as low as $79, making it the most affordable gift in this guide.
Pros
Millions of books, magazines, articles and games are available for free or purchase on Amazon.com.
It comes in three sizes: 6, 7 or 9.7 inches.
Cons
While you can browse the web on Amazon's experimental browser, Kindle isn't a top choice for surfing the internet – unless you go with the Android-based Kindle Fire, available for $199 at the Amazon store.
Asus Eee Pad Transformer Prime
Super light and a mere 8.3 millimeters thin, the first quad-core tablet in the world features a bright 10-inch display. In addition to sleek looks, it boasts Android's most powerful phone and tablet integration software, Ice Cream Sandwich.
Its versatility – that is, three different input methods – and mid-range price tag make it an attractive mobile device for students continuing their education, or recent college grads entering the workforce.
Pros
It offers versatility as a tablet, priced at $499 for 32 GB and $599 for 64GB, or, if you opt to buy the keyboard and dock for an additional $150, the Transformer becomes a notebook.
1080p HD video playback will give you images as sharp as anything you've seen on an HDTV screen.
Cons
$150 docking station accessory puts a slightly higher price tag on the aforementioned versatility.
Any of these smartphone or tablet options definitely earn you a spot on the "best gift giver" list, but going the extra mile to ensure their security is recommended. Getting hacked isn't just a pain -- it costs a lot of time and money in the long run.
Give your gift already fully protected, so the graduate in your life can spend money on e-books, music and apps instead.
By Amy Granite