Ah, tax season: the mad scramble to meet the April filing deadline, followed by the reward (one hopes!): debating the coolest and least-practical way to blow the tax refund.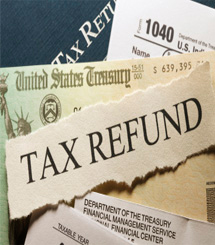 What will it go towards this year? A down payment on a car? A fabulous summer wardrobe? A bottle of '45 Chateau D'Yquem?
While the possibilities are endless, making a mobile technology upgrade – be it a new tablet, smartphone, laptop or suite of apps – is an investment both cool and practical.
Invest that tax money in a mobile technology upgrade, and you'll be filing next year's tax return from your smartphone!
Here are the best tech buys you can snag when that refund money arrives.
Tablets
A new tablet definitely offers that "treat yourself" feeling that a tax refund spending spree should – with the added layer of practicality, since your tablet serves as a portable communications center, library and movie theater rolled into one.
While the new iPad runs between $500 and $800, depending on storage and features, you can find other tablets that, unlike the government, don't skim as much off the top.
Some Android tablets are emerging as viable competitors to Apple's signature tablet, since the release of Honeycomb, Google's tablet-specific operating system.
And for that smaller refund, consider the $199 Amazon Kindle Fire.
Laptops
Ok, so you're not buying the hype on tablets. You've got a laptop and a smartphone; you're covered.
Except your current laptop was purchased in 2001 and makes a sound like a bear being disturbed from hibernation when you power it up. An upgrade is needed!
Mac people can score the new MacBook Air, though it is likely to consume your entire refund.
PC users have more leeway, but this is the perfect chance to invest in a truly advanced PC laptop. If you shell out upwards of $500, you'll get your money's worth in the form of high-resolution screens, more powerful processors and longer battery life.
Smartphones
Not on the mobile technology train yet? Use your refund as a springboard to launch into the land of smartphone supremacy.
It's the right time for a mobile technology upgrade, since never before have such a wide variety of providers offered so many high-quality smart phones.
Whether an iPhone 4S ($200 - $400) with its useful-but-creepy Siri voice technology, or a Samsung Galaxy S II Skyrocket ($200), you will enjoy many happy returns from this refund investment.
Apps
So you already have a tablet and smartphone… what's left to blow your return on?
Use it to buy a wealth of killer apps that exponentially raise the awesome factor of your current mobile technology.
Beejive IM ($9.99) will consolidate your iPad Instant Messaging into one client that lets you stay in touch with friends who use AIM, Facebook, Google, Jabber, MSN/Windows Live and Yahoo IM.
Or choose IM + Pro ($4.99) for your Android tablet for another all-in-one messenger service.
Security
Regardless of what mobile technology you score with your tax refund, don't neglect to put aside a few extra dollars to invest in the best mobile security technology available, to make sure you and your new toys are protected from malware, hacking and other security threats.
Just as you are treating yourself to the latest and greatest, your best mobile technology deserves the best mobile security!
Now, go forth, and spend! Your country thanks you.
By Jamey Bainer