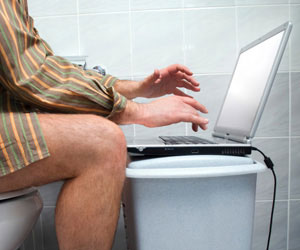 It's hard to imagine that just over seven years ago we lived in a world without Facebook. Until that point, the weekend activities of our closest friends and frenemies remained a mystery until a face-to-face interaction took place. But thanks to the fervent spread of this notorious social network, your high school lab partner's inner-most thoughts are now ever-accessible—your ex-girlfriend's family vacation photos, now mere clicks away!
But what effect does this level of instant gratification have on our brains? Could it be that for every long-lost connection made or hilarious cat video shared, we sacrifice a bit of our sanity?
According to recent studies, Facebook addiction is the real deal, and has the potential to produce symptoms of dependency similar to those of alcohol and substance addiction. For In a study published in April 2012, researchers surveyed over 400 students to gauge their Facebook usage and level of obsession. The study found that women and younger users may be at even higher risk.
So how can you tell if you have a problem? If you're up late and loosing sleep, postponing work obligations, or spending over an hour a day dedicated to Facebook browsing, it might not be a bad idea to assess your relationship with the site. Find out where you fall on the Bergen Facebook Addiction Scale by responding to the following statements with 'very rarely', 'rarely', 'sometimes', 'often' or 'very often':
You spend a lot of time thinking about Facebook or planning to use Facebook.
You feel an urge to use Facebook more and more.
You use Facebook in order to forget about personal problems.
You have tried to cut down on the use of Facebook without success.
You become restless or troubled if you are prohibited from using Facebook.
You use Facebook so much that it has a negative impact on your job/studies.
Did you answer 'often' or 'very often' to four or more of the questions above? Then you might want to put yourself on Facebook probation. But don't feel too mortified if you fall into this category—the addictive appeal is easy for all of us to understand.
With over 900 million active users, Facebook has about three times as many members as there are people living in the United States—all seeking, in our own ways, some promise of human connection. But in an online world where "likes" and little red notifications serve as a kind of social currency, we feed a need for validation that can't always be satiated in the virtual world.
So how can you keep your Facebook frenzy in check? Try one of these three tips to reel in your reliance on virtual socialization.
Clean up your friend list
In the habit of friending everyone you've ever met? Sometimes that innocent curiosity can lead to hours of time and energy you may not even realize you're spending. Try to cut down your friend list to the relationships you maintain in real life, or if you work in the field, those online relationships most important to you. Have your online friends help you with your task by making an announcement that you're cleaning house—if a buddy messages you to let you know they want to stay in touch, add them to your list of those who make the cut.
Filter your news feed
Political rants from an old college acquaintance sucking you in? Subjecting yourself to pleading parents in need of your Cutest Baby Contest vote? Filtering your news feed can significantly decrease the mental toxicity levels of your precious time online, and may even make for a more pleasant, less addictive Facebook experience. If you see something that doesn't fly, change your feed frequency or unsubscribe from a particular friend's updates.
Take a break
Addictive behaviors, by definition overwhelm our willpower, so even with the best intentions, sometimes the best remedy is to cut it out cold turkey. Already feeling anxious about being out of the loop? Try temporarily suspending your account. That way you can see what a few Facebook-free days feel like and still come back later with your personal info and contacts in tact.