Adapted from Eating the Beats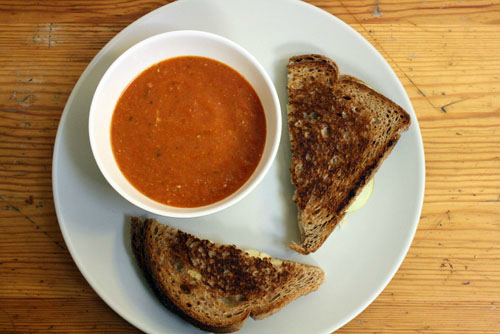 The Recipe
This makes enough for probably about 10 bowls of soup. Bits and pieces of the recipe were taken from a few different places. I have to say this actually has sort of a tomato sauce texture to it; you could leave out the bread or add more veggie stock to make it a bit thinner, but I think it's fine just like this.
Soup Ingredients
Olive oil
1 medium onion, diced
3 cloves garlic, minced
2 (29 oz.) jars of whole plum tomatoes (you can also use diced tomatoes)
2 cups vegetable stock
5-10 basil leaves, sliced
2-3 slices sandwich bread, cut into small pieces
1/4 cup Parmesan cheese (optional)
Sandwich Ingredients
Bakery bread, ½" slices (your preference)
White cheddar cheese, sliced
Apples, sliced (your preference)
Butter
Making The Soup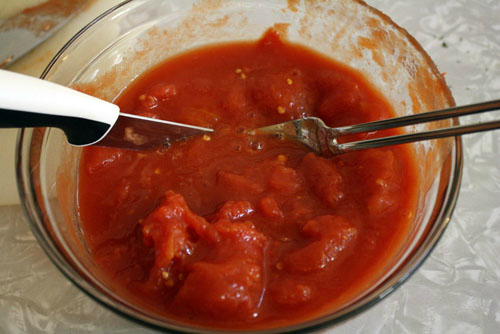 Saute onion and garlic over medium heat until onions are translucent, about 3-5 minutes.
Pour tomatoes and their juices into a bowl; use a fork and knife or your hands to break up the tomatoes into smallish pieces (skip this if you're using diced tomatoes). Add to the pot with the basil and cook for 5 minutes. Add veggie stock, and bring to a boil.
Lower to a simmer and add the bread. Cook until the bread is mushy/falling apart.
Remove soup from heat and let cool for a few minutes before pureeing with an immersion blender (or in batches in a food processor). Mix in Parmesan (optional).
Making The Sandwich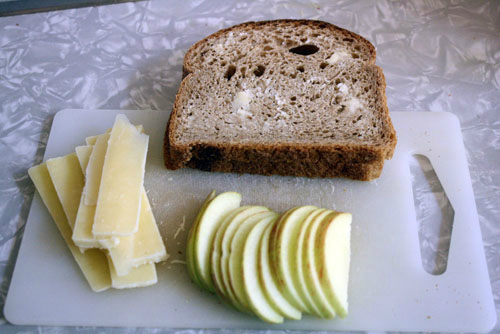 Preheat skillet over medium heat. Generously butter one side of bread. Place bread butter-side-down onto skillet bottom and add slices of white cheddar and apples. Butter a second slice of bread on one side and place butter-side-up on top of sandwich. Grill until lightly browned and flip over; continue grilling until cheese is melted. Repeat for additional sandwiches.
The Inspiration
Joni Mitchell will forever be one of my all-time favorite artists, and while there is always at least one song of hers that's fitting for any given season or mood, I associate her most closely with fall and winter (and not only because of the song "River"). In "Urge for Going," a song she wrote in 1966, she sings about the year's first frost swallowing up the summer ("I awoke today and found the frost perched on the town/ It hovered in a frozen sky and it gobbled summer down").
About Laura Leebove
Laura Leebove is the Brooklyn-based writer and self-taught home cook behind Eating the Beats. Her full-time gig is in the editorial department at eMusic, and she spends most of her free time in the kitchen of her Bushwick apartment. Follow her on Twitter at @leebovel.