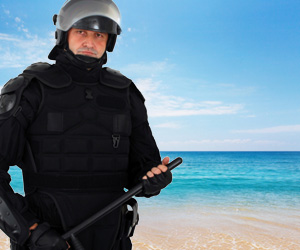 It's hard to imagine the disconnected days of yore, when impossible-to-refold road maps were our main navigational tool. Now we can compare ticket prices, browse nearby hotel and restaurant reviews, map a route from our exact location, and even view real-time traffic reports at the touch of a button.
While the increased access to information can make traveling an absolute breeze, the amount of information we carry on our digital devices makes us even more vulnerable to theft and malicious behavior.
Before you hit the road this summer, learn how to protect your stuff, use modern tech tools to your advantage, and take the proper cybersecurity precautions with your personal digital devices.
Tech-savvy surveillance
Thanks to new security systems and applications like Vuezone and iCam, you can keep vigilant watch over your place, pets and plants right from your smartphone or other mobile device.
Whether you purchase a portable video monitoring system as part of a security package, or you choose software that connects to the built-in webcams on your Mac or PC, these types of applications allow you to access live video and audio streams whenever and wherever you choose. This DIY-style surveillance can then be viewed via web browser or smartphone.
While it may not deter or prevent an intruder, the ability to see things for yourself can give you the peace of mind you need to enjoy a truly worry-free getaway.
Beware of WiFi
While it can be tempting to take out your phone whenever you're in free WiFi range, connecting to an unknown network comes with some major risks. Checking your email or viewing your bank account balance on a poorly protected network could invite savvy hackers to intercept unencrypted cookies, and steal your login and password information for the sites you access most.
Your best bets?
Steer clear of WiFi spots that require no authentication or password, and be wary of the kinds of activities you participate in, even on networks that seem relatively safe.
Use strong passwords that you update regularly.
Be sure your software is up to date before your departure. Turn off autofill functions on the mobile devices you'll be traveling with.
Go off the grid
While it's gratifying to announce your envy-inducing vacation plans to your Facebook friends you're essentially advertising your absence and making your home vulnerable to invasion.
As tempting as it can be to check in, tweet, and Instagram every memorable moment, the safer (and likely more relaxing) option is to take a vacation from your digital devices while you're away.
Let your close friends know how you can be reached in case of emergency, but don't be afraid to turn off for a few days. To safeguard your info from falling into the wrong hands, turn your mobile device off completely and physically remove its battery.
Let the right ones in
It's never a bad idea to tell a trustworthy neighbor when you'll be out of town, or invite a friend to check in on your place while you are away. If you have a home alarm system, be sure to call your company representative to let them know your plans, and always keep your valuables out of plain sight.
Whether you're gone for a few days or a few weeks, your vacation will be much more enjoyable with the peace of mind that your stuff is secure.