We're getting ready to set those clocks back an hour, and we're rummaging around for warm woolen socks. Planting is far and away the last thing on our minds. But rest assured, planting spring bulbs is the perfect fall activity for planters of all levels, and it pays off big on the other of side of winter.
Read these tips from a Master Gardener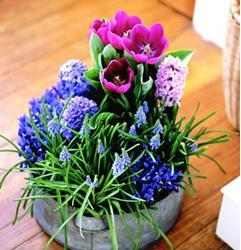 What You'll Need
Planting container – at least 8" across by 10" deep; must allow water through
Potting soil – ask a garden center expert which soil is best for your area
Spring bulbs (see below)
There are about a dozen or so typical spring bulbs that you can get almost anywhere. For this exercise we'll focus on daffodils, tulips, crocuses, and grape hyacinths, with optional extras like violas, pansies and ornamental cabbage.
There's no bad color combination when it comes to flowers. It's all a matter of personal taste and sense of adventure, so let your imagination run wild.
Before Planting
Find a space outdoors or near outdoors, whether it's a windowsill, your front porch, or your neighbor's garden. (Note: You must have at least a few hours of sunlight in this space come springtime).
Your bulb packets will usually tell you about how deep to plant the bulbs. Generally, the bigger the bulb, the deeper they go. Smaller bulbs like crocuses will only go about 2-3" deep; tulips usually like to be planted about 4" down; and daffodils typically go about 6" deep. But don't get the ruler out quite yet. An inch or two in either direction doesn't make a big difference, and even if you plant them upside down, your bulbs are going to come up.
The one key difference in planting your bulbs in pots and planting them in the garden is spacing. In the case of pots, you'll want to cram as many of them as you can inside, while leaving a little wiggle room in the soil. That said, here we go.
Getting Started
Put a couple inches of soil in the bottom of the container. Start with daffodils. Put them right on the layer of soil, leaving just a couple of inches between the bulbs.
Next, cover the daffodils with a few inches of soil. Put down a layer of tulips, leaving only about an inch between each of them.
Now cover the tulips with a couple inches of soil and lay down your crocuses and grape hyacinths together; cover them with soil. Ideally you'll want an inch or two of soil over the crocuses and grape hyacinths, but if that's not the case, no worries.
You could even put some violas, pansies or ornamental cabbage over the bulbs to dress them up.
Until Spring…
Make sure to water your bulbs well so they don't dry out during the winter. You don't have to water them attentively – just make sure they don't get too dry.
If you live in colder climates, put the pot in a place where it won't freeze, or where you can keep an eye on it when the weather fluctuates. If it does freeze solid and the pot breaks, put the contents in another pot and place in a warmer location.
It's important to enjoy the anticipation of the bloom. Don't get caught up in doing it right. Bulbs are wonderfully forgiving and flexible. Some of the bulbs might even bloom at different times than others, or perhaps they'll all bloom at once.
There are some great books written about gardening with bulbs, if you'd like to learn a bit more. And if you feel like you need a bit of that spring color and fragrance in the middle of winter, in the next series we'll show you how to force spring bulbs so you can enjoy them indoors.