Adapted from Eating the Beats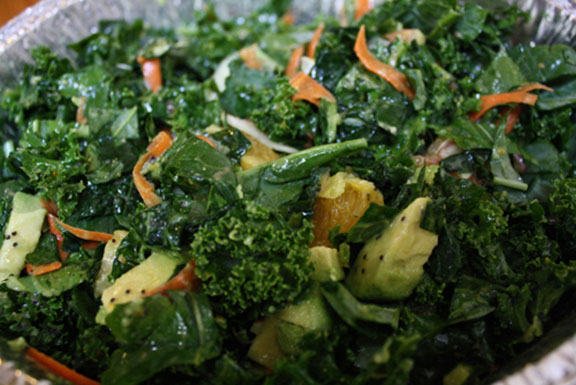 The Dish
Kale salad with oranges, radishes, avocados and honey-orange poppyseed dressing.
The Dressing
Makes about 1 1/2 cups (halve it if you don't want leftovers). Adapted from Lottie + Doof.
You'll Need:
2 tablespoons poppyseeds;
2 tablespoons sugar;
2 tablespoons honey;
1/3 cup white wine vinegar;
1/2 small onion, grated (about 1 1/2 tablespoons), with juice saved;
Zest from one orange;
2 teaspoons dry mustard powder;
2 teaspoons kosher salt;
1 teaspoon freshly ground black pepper;
1/3 cup + 2 tablespoons canola oil;
1/4 cup olive oil.
Heat poppyseeds over medium-high heat for about two minutes, shaking them lightly in the pan. Add the sugar, honey, vinegar, onion and juice, orange zest, mustard powder, salt and pepper. Whisk together, then cook until the sugar dissolves and it starts to simmer.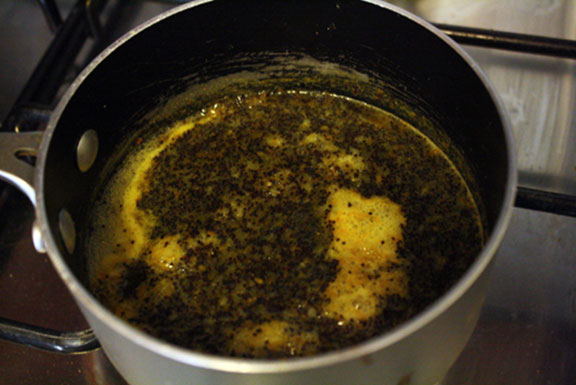 Remove dressing from the heat and transfer to a blender or food processor. Add both oils and pulse until the mixture is smooth. Let chill in the fridge before using.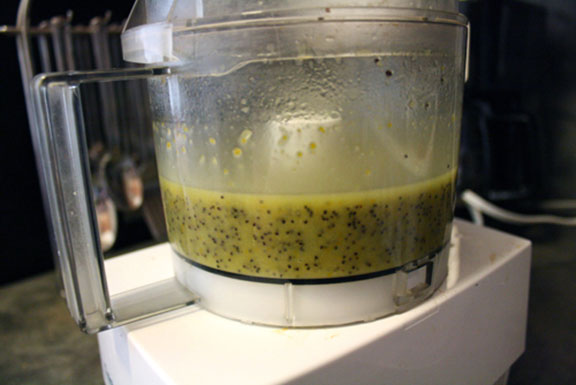 The Salad
Kale, fruits and veggies, and the poppyseed dressing recipe above.
You'll Need:
8 cups kale, chopped into bite size-ish pieces (I used a mix of Tuscan and curly);
2 oranges, peeled, pulled into segments and cut into bite-size pieces;
1 avocado, peeled, seeded and chopped;
2 radishes, sliced into thin circles;
1-2 carrots, shredded (I used a peeler to get it into thin strips, then cut them).
Combine kale and 3/4 cup dressing, then add the rest of the ingredients, toss and let sit for a few minutes before serving, so the dressing has time to soften up the kale a little bit.
The Inspiration
This month's recipe is inspired by Julie Ann Bee of Sea of Bees, a disarming singer-songwriter from Sacramento, California, who completely blew my mind when I saw her in New York. Inspired by her latest album Orangefarben—a kind of the first-love story about her recently-ended relationship—I created this salad as an homage.
"Orangefarben" really just means orange-colored in German, and it's the nickname Julie called her girlfriend, so the salad I made obviously has oranges in it (and carrots for more orange color); as well as honey in the dressing because of Sea of "Bees." The avocados are there for Julie's California roots. The kale and radishes are bitter, like the end of many relationships, and the dressing and oranges are quite sweet, to represent the sweetness in the beginning, and the satisfaction from how much we can learn from any relationship, especially a first one.
Check out the full post for more photos and a sampling of sound from Sea of Bees!
About Laura Leebove
Laura Leebove is the Brooklyn-based writer and self-taught home cook behind Eating the Beats. Her full-time gig is in the editorial department at eMusic, and she spends most of her free time in the kitchen of her Bushwick apartment. Follow her on Twitter at @leebovel.