Adapted from Eating the Beats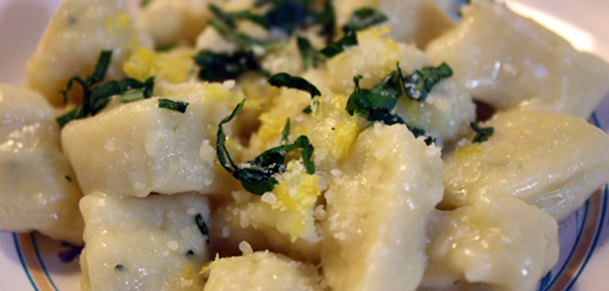 The Recipe
Makes about 100 tiny dumplings (serves 4)
Ingredients
1 cup ricotta cheese
1 cup all-purpose flour, divided
1 egg, lightly beaten
1 teaspoon lemon zest, plus more for garnish
1 teaspoon fresh basil, finely chopped, plus more for garnish
1/2 teaspoon fresh mint, finely chopped
Melted butter, to serve
Parmesan cheese, to serve (optional)
Directions
In a large bowl, mix ricotta and egg. Add 1/2 cup flour and mix it with a spoon to form a ball.
With your hands, mix in lemon zest, basil, mint, and more flour–a couple of tablespoons at a time. If your ricotta is not very moist, you won't need to use a whole cup. The dough should be sticky but not wet.
On a lightly-floured surface, break the dough into 2 or 3 pieces and roll it out into strands that are about 1/2" wide. Slice each strand into pieces that are about 1/2" - 1" long.
Transfer the dumplings to a large pot of boiling, salted water and boil until all dumplings float to the surface. If you're only doing one serving at a time, it should take about five minutes, but cooking time will be longer if you make them all at once.
Serve with melted butter, garnish with lemon zest, basil, and parmesan cheese. To freeze the rest: lay them out on a baking sheet, plate, etc., and freeze — then transfer them to a container.
The Inspiration
These tiny, fluffy lemon ricotta dumplings are inspired by Glass Candy's song "Warm in the Winter"– the chorus of which is "We're warm in the winter/ Sunny on the inside."
About Laura Leebove
Laura Leebove is the Brooklyn-based writer and self-taught home cook behind Eating the Beats. Her full-time gig is in the editorial department at eMusic, and she spends most of her free time in the kitchen of her Bushwick apartment. Follow her on Twitter at@leebovel.