Mango, Peaches & Lime Sangria
Adapted from Eating the Beats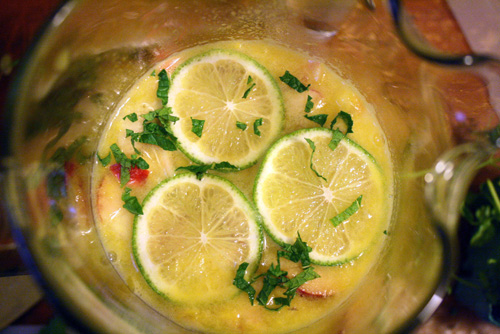 The Dish
White sangria with mango, peaches, and lime.
You'll Need:
1 bottle cold white wine (I used pinot grigio)
1 1/3 cups lemon-lime seltzer
1/2 cup gin
1/3 cup orange juice
2-3 peaches, diced
1 mango, diced
juice of 1 lime plus another lime sliced for garnish
and a couple tablespoons finely chopped mint.
Add everything to a pitcher and stir. It'll be best if you let it sit for a few hours or even overnight, so the fruit gets nice and boozy, but if you can't wait that long, it's just fine to drink right away.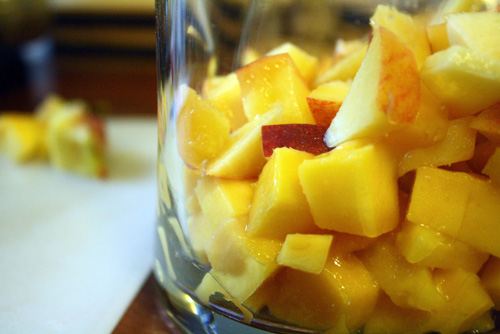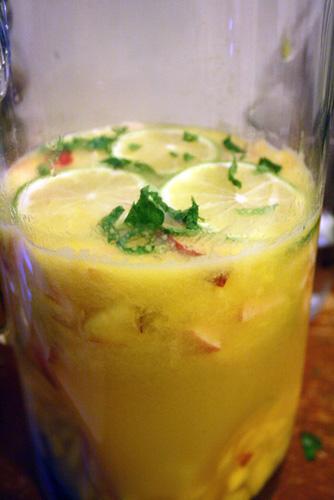 The Inspiration
This month's recipe is inspired by Frank Ocean! Are you a fan? Everyone I know is flipping out over the R&B singer/songwriter's first proper album channel ORANGE, a perfect summer soundtrack. In "Sweet Life" Ocean sings about "mangoes, peaches and limes," so I decided to make a beverage that will go down as smooth as Ocean's voice.
Check out the full post for more photos and a sampling of the "Sweet Life"!
About Laura Leebove
Laura Leebove is the Brooklyn-based writer and self-taught home cook behind Eating the Beats. Her full-time gig is in the editorial department at eMusic, and she spends most of her free time in the kitchen of her Bushwick apartment. Follow her on Twitter at @leebovel.
Past Newsletters
2014 Newsletters

2013 Newsletters

2012 Newsletters

2011 Newsletters