It started out innocently enough for my friend John. He was browsing through the day's news and there it was-this trashy little article about reality TV personality, Snooki–gleaming like a giant red button.
One curious click and 5 minutes later, John unknowingly broadcasted his short read to the virtual world at large, thanks to the Washington Post Social Reader app he'd downloaded via Facebook.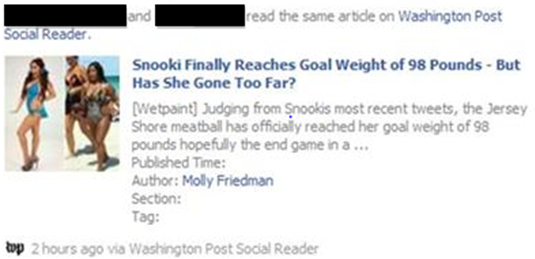 Not surprisingly, he received a torrent of comments in response:
Oh no you didn't?!
Did she go too far, John? Did she?
You actually read this stuff?
A similar embarrassment happened to my other friend, Chris, who had just listened to a raunchy, "F" bomb-laced song by Penguin Prison on Spotify.

The timing of Spotify's automatic post to Chris' Facebook feed perfectly coincided with the exact moment his grandmother stopped by his wall to say hello. Apparently the call he later received was no less frightening than the clown from Stephen King's IT.
Incidents like these are a rising trend. In fact, there's even a term for it: "frictionless sharing." It's all part of Facebook's Open Graph platform for apps, which leverages the idea that we should be able to share the things we do during our day in as few steps as possible.
Social media apps (like The Washington Post Social Reader, Pinterest, GetGlue, Spotify, and FoodSpotting, to name but a few) take the multimedia content we listen to, watch, and read, and publish the information to our Facebook profiles without the need to click on anything (such as the Like button).
Facebook's innovations to simplify social sharing are nothing new. Farmville and other games like it can provide a great example of how apps that automatically share a member's activities with friends have been a staple ingredient in the social network's draw.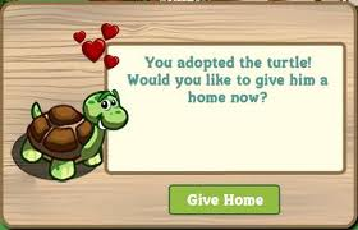 But with embarrassing stories like John's and Chris' happening more and more frequently, it seems that many users aren't even aware what these new social apps are posting to their profiles–especially since many social apps publish your content to everyone by default.
It's one thing for your friends to see that you raised a certain amount of crops or adopted a turtle on Farmville. It's quite another to accidentally inform your whole network that you just read "5 Telltale Signs You'e Pregnant" or "How to Find a New Job in 3 Weeks or Less."
Proponents of frictionless sharing, like my colleague, Lisa, are saying that the integration with Facebook makes it a lot easier to share the things you were going to share anyway–without the extra steps.
"I think frictionless sharing is more than just a trend; it's the future of social media," said Lisa. And she may be right.
Facebook recently had this to say on their blog: "Soon, there will be apps for all types of interests, as more apps will launch over time. Whether you love snowboarding, gardening, hiking, or knitting, or something else, there will be an app for you."
Even with Facebook's forecast for "an app for everyone" some are remaining skeptical of the leap into frictionless sharing–including some businesses.
Streaming radio giant, Pandora, is among those companies that remain hesitant to develop an app with Facebook integration. "It's true that music is a social experience, but it's also a very private experience. We have to be very cautious," said Tim Westergren, Pandora's founder, in a recent interview with CNN.
Marshall Kirkpatrick took the argument one step further in a recent article on ReadWriteWeb: "I think there's something more fundamental going on [...] I think this is a violation of the relationship between the web and its users. Facebook is acting like malware."
Regardless of how companies like Pandora and Facebook users like John, Chris, and Lisa feel, one thing is for sure: frictionless sharing will continue to embarrass us–at least for a little while–until we start learning how to take control over our privacy, one social app at a time.
So what do YOU think? Are social apps sharing too much information on Facebook? Where do we draw the line between social sharing and social over-sharing? Let us know in today's Facebook poll »