Pumpkin Nightcrawler Cupcakes
Adapted from Eating the Beats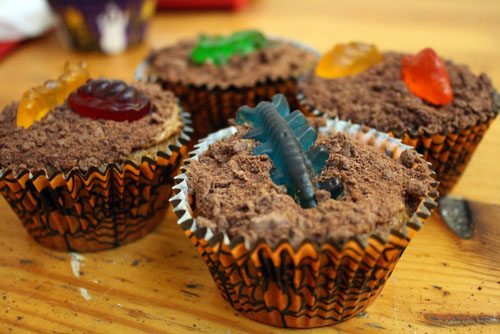 The Dish
Pumpkin-coffee cupcakes with mocha frosting, "dirt" and bugs. Adapted, just slightly, from Annie's Eats. Makes about 24-30 cupcakes.
The Cupcakes
You'll Need:
3 cups all-purpose flour;
2 tsp baking soda;
2 tsp baking powder;
2 tsp cinnamon;
1/4 tsp nutmeg;
1/4 tsp ground cloves;
1 tsp salt;
1 (15 oz.) can pumpkin puree;
1 cup sugar;
1 cup packed light brown sugar;
1 cup canola or vegetable oil;
3 tbsp instant coffee powder;
4 large eggs.
Preheat oven to 350 degrees Fahrenheit.
In a medium bowl, whisk together flour, baking soda, baking powder, spices and salt.
In a large bowl (or the bowl of an electric mixer), beat together the pumpkin, both sugars, oil and instant coffee. Add the eggs one at a time, making sure each is well incorporated before adding the next.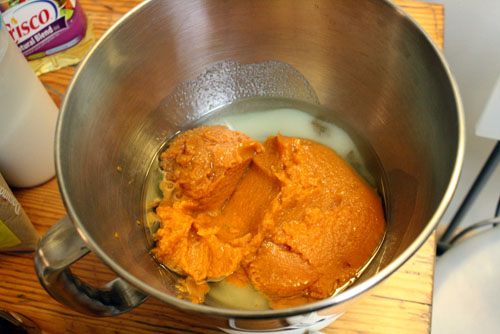 Gradually add the flour mixture on low speed until just combined.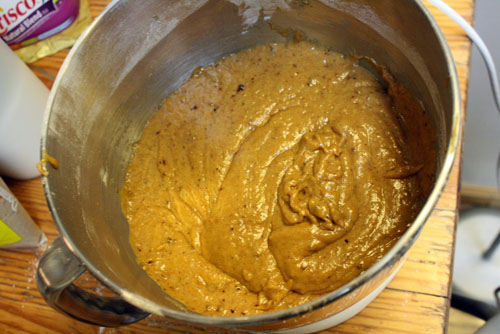 Fill the cupcake tins about one-half to three-quarters full. Bake about 20 minutes, until a toothpick inserted in the middle comes out clean. Cool completely before frosting.
The Frosting
You'll Need:
1 stick of butter, at room temperature;
1 3/4 cups powdered sugar, separated;
2 tbsp cocoa powder;
1/2 tbsp instant coffee dissolved in 1/2 tbsp vanilla;
2 tbsp milk
Beat together butter, half the powdered sugar and cocoa powder. Add milk, one tablespoon at a time, then add the rest of the powdered sugar and the coffee/vanilla mixture. You can add more powdered sugar or milk until you reach your desired consistency.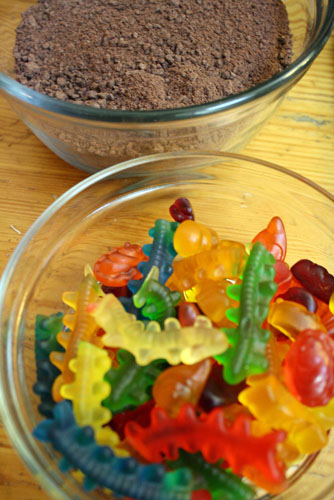 The Toppings
You'll Need:
Gummy worms, bugs, etc. (I used gummy centipedes cut in half and Willy Wonka Sluggles);
about 1 cup of chocolate cookie "dirt" (I tossed Trader Joe's Chocolatey Cat Cookies in the food processor)
Use an offset spatula or the back of a spoon to frost the cupcakes. Dip the cupcake face down into the dirt. Top with bugs. Enjoy!
About Laura Leebove
Laura Leebove is the Brooklyn-based writer and self-taught home cook behind Eating the Beats. Her full-time gig is in the editorial department at eMusic, and she spends most of her free time in the kitchen of her Bushwick apartment. Follow her on Twitter at @leebovel.
Past Newsletters
2014 Newsletters

2013 Newsletters

2012 Newsletters

2011 Newsletters