Adapted from Eating the Beats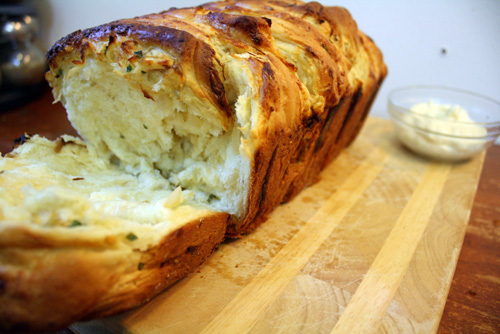 The Dish
Apple, Camembert and chive pull-apart bread with horseradish butter. Makes one loaf. Heavily adapted from Joy the Baker.
For The Dough You'll Need:
3 cups all-purpose flour, separated;
1/4 cup granulated sugar;
2 1/4 teaspoons (1 envelope) active dry yeast;
1/2 teaspoon salt;
2 ounces unsalted butter;
1/3 cup whole milk;
5 tablespoons water, separated;
2 large eggs, at room temperature
For The Filling You'll Need:
1 large, finely chopped tart apple;
6-8 ounces Camembert cheese;
2-3 tablespoons chives, finely chopped
Directions For The Bread:
In a small bowl, combine yeast with 3 tablespoons very warm water and a pinch of sugar. Let stand for at least 5 minutes.
In a large bowl, whisk together 2 cups of flour, sugar, and salt. Set aside.
Whisk together the eggs and set aside.
In a small pot, melt together the milk and butter until the butter has just melted. Remove from the heat and add 2-3 tablespoons of water. Let sit for a minute.
Pour the milk mixture and yeast mixture into the dry ingredients and mix with a spatula. Add the eggs and continue to mix with the spatula until they're incorporated.
Add another 3/4 cup of flour and stir until it's sticky and looks like dough.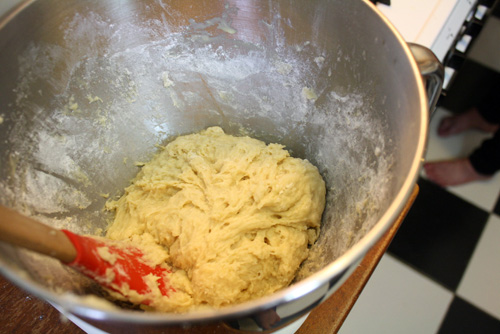 Place the dough in a large, oiled bowl. Cover it with plastic wrap and place a clean dish towel on top. Let it sit in a warm place for about an hour, until it's doubled in size.
Meanwhile, make the filling. Slice the rind off the Camembert and melt in the microwave for about 20 seconds. Add the chopped apples and chives and mix.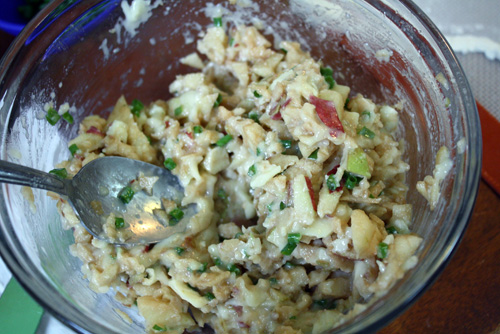 Grease and flour a 9x5x3-inch loaf pan and set aside.
After the dough has risen, punch it down and knead about 2 tablespoons of flour into it. Cover the bowl with the dish towel and let sit for 5 minutes.
Lightly flour a flat work surface (hello, silicone workmat!) and use a rolling pin to roll out the dough. It should be about 20 inches long and 12 inches wide, but you really don't have to measure it. Carefully slice it horizontally into six strips. Spread the apple and cheese mixture evenly among them. Stack the strips on top of one another and then cut into six pieces again, more or less squares.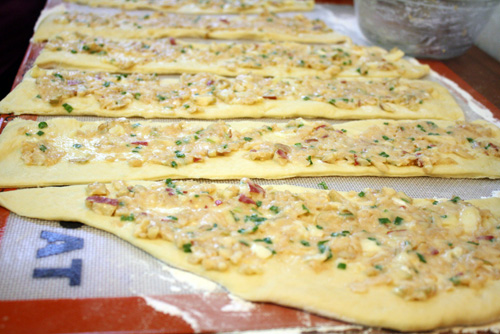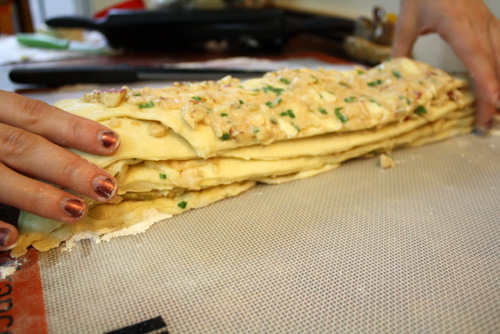 Layer the piles of dough upright in the loaf pan, so you can see all the layers when you look at it from the top. Put the towel over the pan and let it rise in a warm place for half an hour.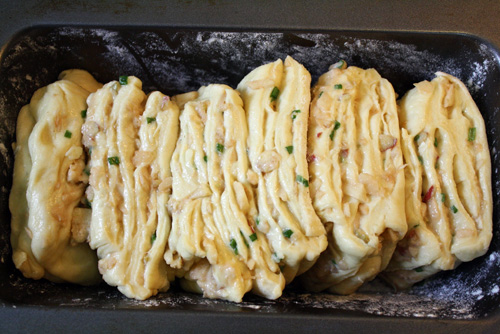 Preheat your oven to 350 degrees Fahrenheit, with a rack on the middle shelf. Bake for about 35 minutes, until the top of the bread is a dark, golden brown. Take it out of the oven and let sit for about half an hour. Use a knife to loosen the bread, then flip it onto a board or plate. Then flip it back the other way so it's right side up again.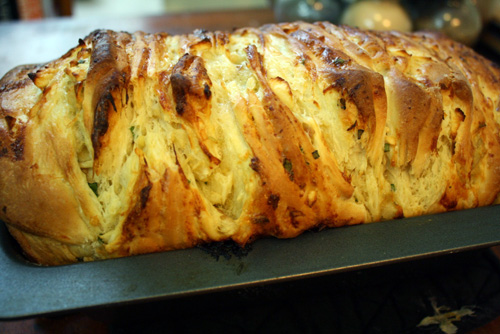 For The Butter You'll Need:
4 tablespoons butter, soft;
2 teaspoons prepared horseradish;
heaping 1/4 teaspoon of dry mustard;
freshly ground black pepper, to taste
Directions For The Butter:
Mix all ingredients together. Add more horseradish or mustard to taste.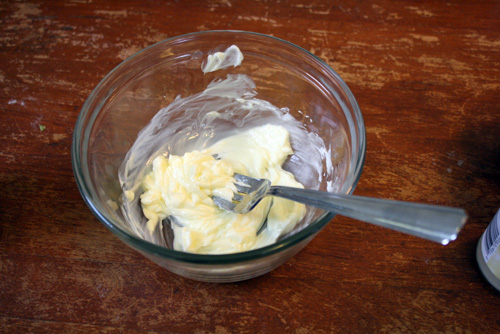 The Inspiration
When I started brainstorming recipes for my site two years ago, one of the first half-ideas I had was a Fiona Apple-inspired dish involving with tart apples. Her latest album, The Idler Wheel is Wiser than the Driver of the Screw and Whipping Cords Will Serve You More than Ropes Will Ever Do (whew!) ends with the jazzy vocal acrobatics of "Hot Knife". One of my favorite tracks, it's driven by the line, "If I'm butter, if I'm butter/ If I'm butter then he's a hot knife."
Check out the full post for even more behind the recipe, and a taste of Fiona's latest.
About Laura Leebove
Laura Leebove is the Brooklyn-based writer and self-taught home cook behind Eating the Beats. Her full-time gig is in the editorial department at eMusic, and she spends most of her free time in the kitchen of her Bushwick apartment. Follow her on Twitter at @leebovel.