Adapted from Eating the Beats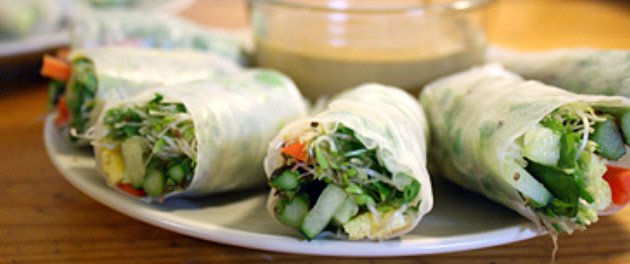 The Recipe
Makes 8 rolls and 1/4 cup of sauce for dipping.
Roll Ingredients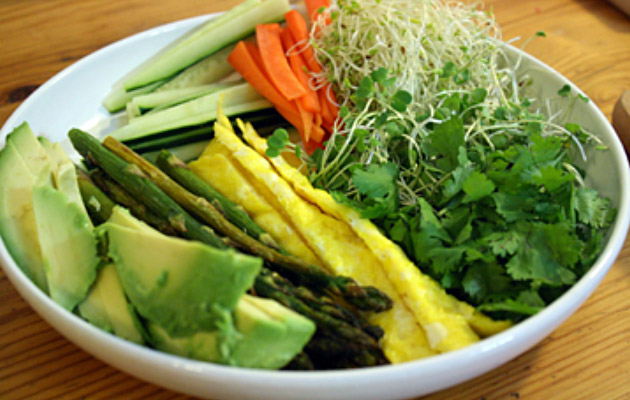 8 round pieces of rice paper (available at most Asian grocers), and various fillings. I used strips of cooked eggs, roasted asparagus, alfalfa sprouts, arugula shoots, thinly-sliced carrots and cucumber, avocado, cilantro and basil. You'll also need a pie plate or some kind of bowl of the same width, filled with room temperature water a couple inches high.
Sauce Ingredients
1/4 cup peanut butter
1 tablespoon soy sauce
2 teaspoons brown sugar
2 tablespoons chopped scallions
1 clove garlic
1/4 teaspoon ground ginger
1/2 teaspoon sesame oil
1/4 to 1/2 teaspoon chili oil
1/4 cup hot water.
Making the Rolls
Place a piece of paper towel on a cutting board.
Set one piece of rice paper in your dish of water; gently move it around until it starts to soften to the point where it almost looks like plastic wrap (as in, the edges will stick to other parts of the paper). It should take about 1-2 minutes.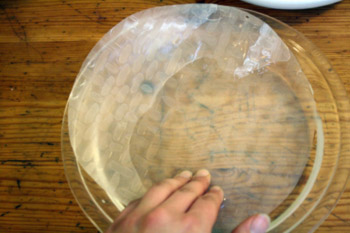 Flatten the rice paper onto the paper towel, then flip it to the other side (to get rid of excess water).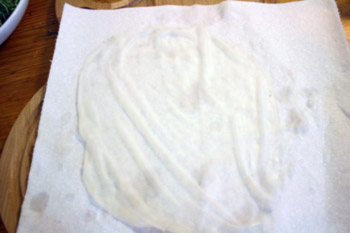 Set it directly onto the cutting board and flatten out the best you can. Add your fillings about 2 inches from the bottom of the paper, leaving about 2 inches on each side.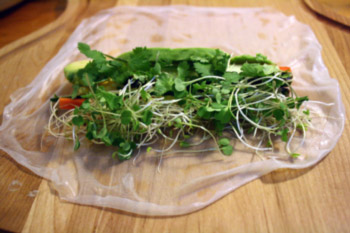 Roll up the bottom, then fold in the sides and tightly roll the rest of the way up. It's OK if the paper rips a little bit along the way—once you roll it up, it'll all stick together. Cut in half and serve. (These also keep well in the fridge overnight.)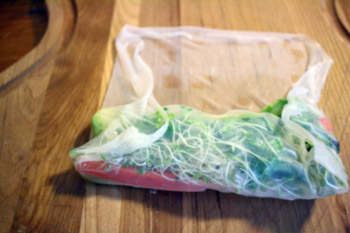 Making the Sauce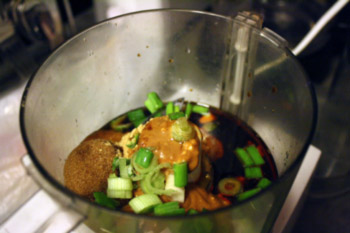 In a food processor, combine everything except water. Gradually add water and stir until you reach your desired consistency. Serve with your rolls and enjoy!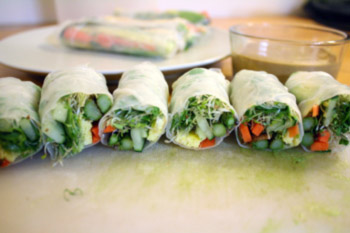 The Inspiration
New York has been feeling like spring, well, throughout most of where winter normally would have been. But this week we finally had the first real day of spring, and to celebrate the beginning of a new season, I made these spring rolls—tasty, refreshing, and uh, springy. Make a few and go eat them in a park (that's what I did the evening of the spring solstice, and it was lovely). And, since spring is a time for starting over—a new season, new life outside, spring cleaning, etc. - check out the full post for a few songs/albums about new beginnings.
About Laura Leebove
Laura Leebove is the Brooklyn-based writer and self-taught home cook behind Eating the Beats. Her full-time gig is in the editorial department at eMusic, and she spends most of her free time in the kitchen of her Bushwick apartment. Follow her on Twitter at @leebovel.