Adapted from Eating the Beats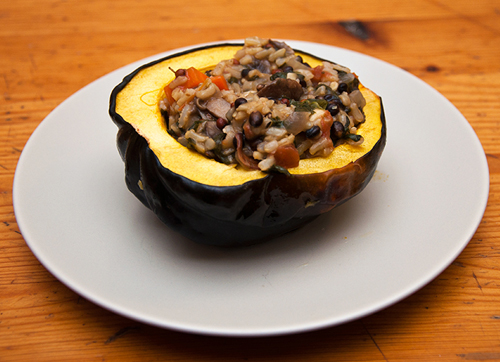 The Dish
Acorn squash stuffed with rice and veggies.
You'll Need:
4 acorn squash, halved, with the seeds scooped out;
2 cups wild rice, uncooked;
4 cups vegetable broth OR 4 cups water and 2 bouillon cubes;
3 stalks celery, chopped;
1 carrot, peeled and chopped;
3 Roma tomatoes, chopped;
2 cloves of garlic, minced;
a few handfuls spinach, kale and/or other greens, chopped;
8 oz. mushrooms, sliced;
1 small red onion, diced.
Heat oven to 450 degrees Fahrenheit.
Place acorn squash halves in baking dishes, flesh side up, and roast until tender (about 40-45 minutes).
Optional: Add a pat of butter to each squash half.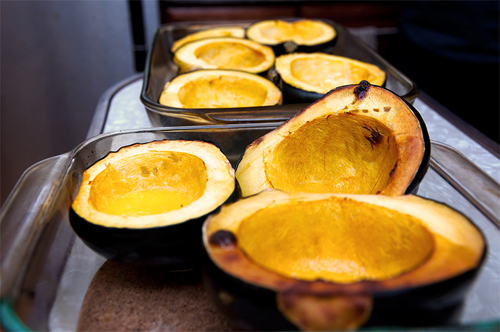 Combine rice and vegetable broth (or water + boullion cubes) in a large pot. Cover and bring to a boil, then bring down to a simmer.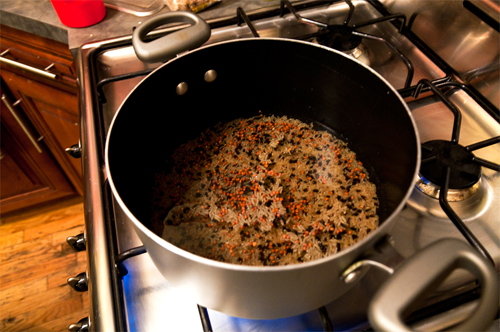 When about half the water/broth is absorbed (about 20 minutes), add garlic, onions, carrots and celery and stir. Cover and cook for another 10 minutes. Stir in mushrooms, tomatoes and spinach. Cook, uncovered, until liquid is absorbed and vegetables are tender.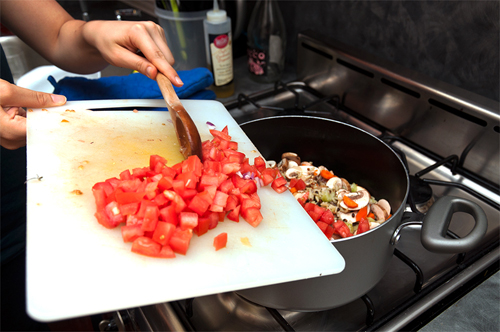 Scoop rice and veggies into squash "bowls" and serve warm.
The Inspiration
Every month or so, I partner with one of my favorite local sites, Brooklyn Based, to feature an exclusive song by a Brooklyn band. Then I create a recipe with—or inspired by—the featured artist. This month's song comes from The Loom.
I'm excited that we were able to time this post with Thanksgiving, because The Loom's music is perfect for sitting around a big table with friends, and so is this dish.
Check out the full post for more photos, stories, and links to The Loom's featured MP3.
Use an offset spatula or the back of a spoon to frost the cupcakes. Dip the cupcake face down into the dirt. Top with bugs. Enjoy!
About Laura Leebove
Laura Leebove is the Brooklyn-based writer and self-taught home cook behind Eating the Beats. Her full-time gig is in the editorial department at eMusic, and she spends most of her free time in the kitchen of her Bushwick apartment. Follow her on Twitter at @leebovel.