Adapted from Eating the Beats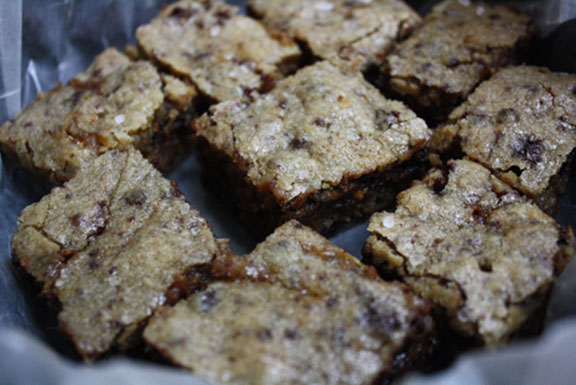 The Dish
Blondies loaded with Momofuku chocolate "crumbs," caramel, and bourbon. Fills one 13×9 baking dish. The caramel and crumbs can be made a couple days ahead of time.
The Caramel
Adapted from Baked Explorations.
You'll Need:
1 cup sugar
2 tablespoons light corn syrup
1/4 cup water
1/2 cup heavy cream
1/4 cup Greek yogurt
1 teaspoon sea salt
Combine the sugar, corn syrup and water in a medium saucepan. Stir carefully over high heat, making sure the mixture doesn't splash onto the sides of the pot.
After about five minutes, heat up the cream in the microwave for about 40 seconds (this is so it's less of a shock to the boiling sugar when you pour it in).
Keep a close eye on the sugar mixture because when it starts to change colors (after about 6-8 minutes), it can burn quickly! It will turn a very light brown, then a darker amber color. When it turns amber, take the saucepan off the heat and slowly add the cream while whisking the mixture together. It is going to seize up and bubble a lot (and if you forget to take it off the heat, it will overflow and be a hot, dangerous, sticky mess — I know this from experience), but just keep whisking and it will come together. (Check out the video for some good visuals of this!)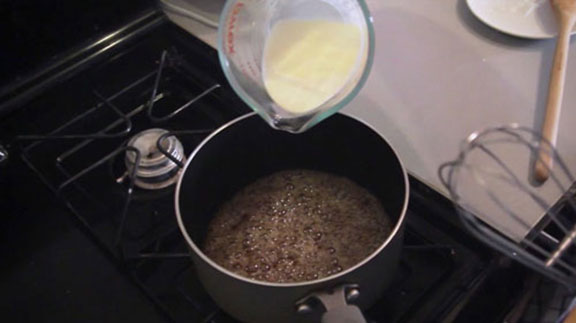 Add the sea salt, then whisk in the Greek yogurt. Pour the caramel into a glass container; if you're using it the same day, let sit in the freezer until it thickens up (at first it will be very thin and syrupy), at least an hour. If you're using it later on, letting it cool in the fridge is fine.
The Chocolate Crumbs
From Christina Tosi's Momofuku Milk Bar. These are kind of like clusters of Oreo cookie crumbs.
You'll Need:
2/3 cup all-purpose flour
2/3 cup high-quality cocoa powder
1/2 cup sugar
1 teaspoon cornstarch
1 teaspoon kosher salt
6 tablespoons butter, melted
Preheat oven to 350 degrees Fahrenheit and line a baking sheet with a silicone baking mat (I think parchment would work as well).
In the bowl of a stand mixer (I don't see why this wouldn't work with a handheld electric mixer, but I have not done it this way so I can't vouch for it!), combine all ingredients except the butter, and mix on low until combined.
Add the butter and mix on low speed until it comes together in small clusters (about a minute).
Spread the clusters out onto the baking sheet and bake for 20 minutes, breaking up the pieces once or twice throughout.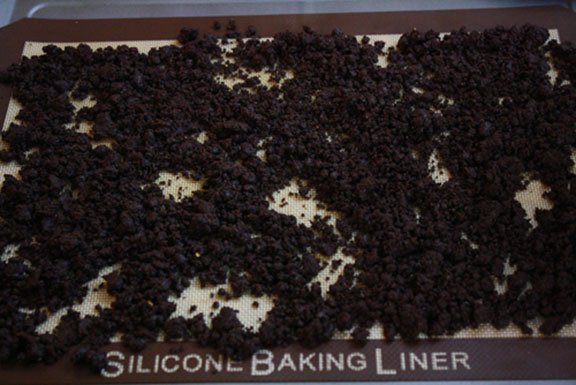 Let the crumbs cool completely before mixing into the blondie batter; they'll harden up a little bit as they cool.
The Blondies
Adapted from Smitten Kitchen.
You'll Need
1 1/2 cups chocolate crumbs and a heaping 1/2 cup caramel (from the recipes above)
2 sticks butter, melted
2 cups light brown sugar
2 eggs
2 teaspoons vanilla mixed with 3 teaspoons instant coffee
6 tablespoons whiskey
1/2 teaspoon salt
2 cups + 2 tablespoons AP flour
1 cup walnuts (optional)
sea salt, to taste
Preheat oven to 350 degrees Fahrenheit and line a 13×9 baking dish with parchment paper (or you can butter it).
With an electric mixer, mix melted butter with brown sugar until smooth. Beat in egg, vanilla and whiskey.
Add and stir in salt and flour. Mix in chocolate crumbs and nuts if using.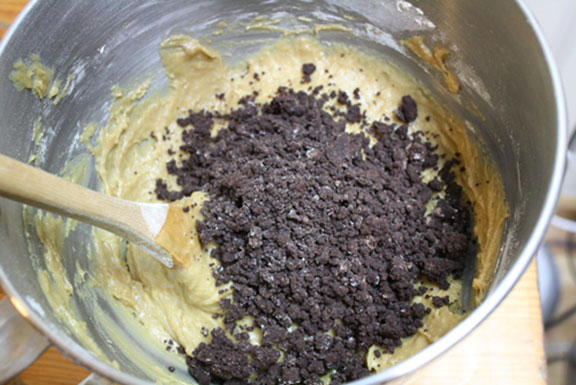 Pour enough batter into the baking dish just to cover the bottom of it. Then zig-zag the caramel on top and use a spatula to spread it out (be careful to not let the caramel reach the edges of the pan).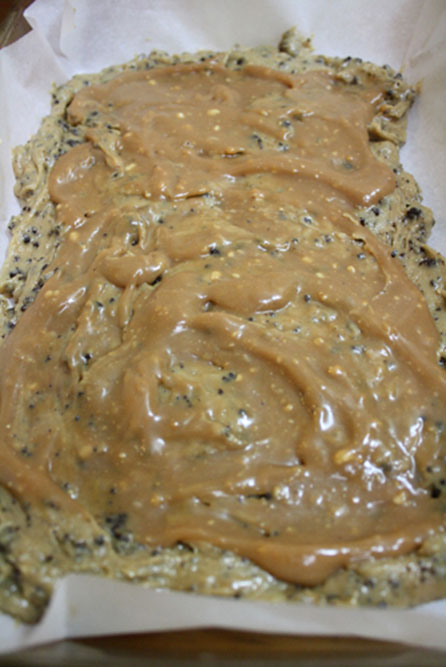 Carefully cover with the rest of the batter, sprinkle a little bit of sea salt on top, and bake for 40-45 minutes, or until a toothpick inserted in the middle comes out clean.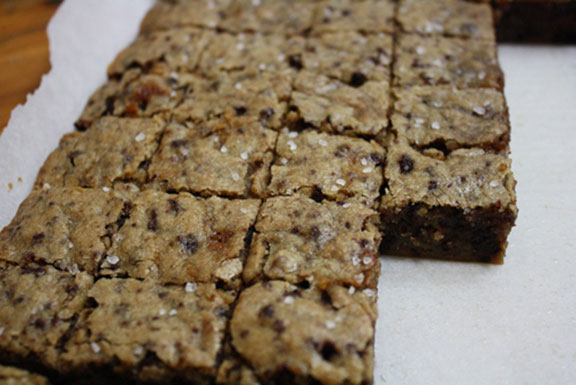 The Inspiration
I recently participated in my first Tumblr Eat Up, in which a ton of Tumblr-ers are assigned a person somewhere in the country to bake and send treats to. My Eat Up buddy Alexis also lives in New York, and happens to be one of the ladies who started the Eat Up, so I had to do something just a little bit over the top.
I combined three elements from New York foodie staples and paired them with a few songs from supergroups—the best ones take great pieces from other projects and combine them into something new, but sometimes just as special.
These blondies are rich and gooey and possibly one of the most amazing treats to come out of this kitchen. Check out the full post for all the details and some audio-visual accompaniment from some of my favorite supergroups!
About Laura Leebove
Laura Leebove is the Brooklyn-based writer and self-taught home cook behind Eating the Beats. Her full-time gig is in the editorial department at eMusic, and she spends most of her free time in the kitchen of her Bushwick apartment. Follow her on Twitter at @leebovel.