How to Taste Wine Like a Pro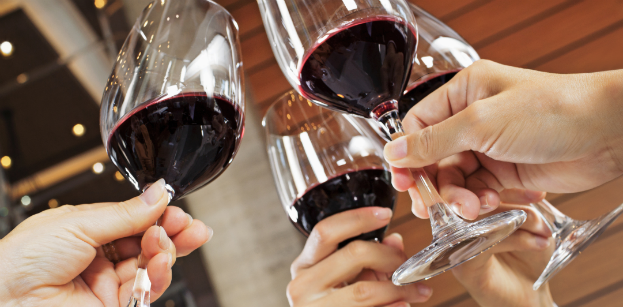 "Fan the sinking flame of hilarity with the wing of friendship; and pass the rosy wine"—Charles Dickens
I recently spent an evening with friends, and we began to speak about the wine we were drinking. Various notes of this and that were discussed. We stuck our noses deep into the glass to waft in the sweet air. And we lied to each other, completely, but we laughed about it.
The next day a natural curiosity took over (or perhaps it was the headache?). How does one taste wine like a pro? Thinking that you might be interested in the same thing, I interviewed two wine experts, Becky Brown and Chris McFall, both sommeliers—and both with their own school of thought—to become a little more knowledgeable in the art of wine tasting.
Q: What is the proper way to taste wine?
Becky: Tasting wine can be broken down into 5 basic steps:
1. Look—Hold your glass at an angle over a white background and look at the color of the wine. As white wines age, they gain color. Red wines lose color as they age. Also note the clarity and viscosity of the wine.
2. Swirl—By swirling the wine in your glass, you release the ester, ethers, and aldehydes and open up the wine. This will not only allow you to really pick up the aromas, but it also softens the wine and makes it taste better!
3. Smell—The way a wine smells can give many clues to how it will taste, where it was made, and what grapes it was made from. Also, your sense of smell is imperative to your sense of taste. Tilt your glass to a 45° angle and smell the wine 2 or 3 times. There are hundreds of scents that can be pinpointed, and the "nose" of a wine helps to identify certain characteristics, and any possible defects.
4. Taste—Swirl over your entire palate for about ten seconds: sense dryness, sweetness, and the weight of the wine on your tongue. "Tannin" is the term for a tactile sensation and is detected on your tongue as dryness. It is a natural substance in the wine that comes from the skins, stems and pips of the grapes. You will sense sweetness on the tip of your tongue, bitter on the back and acid or sourness on the sides of your tongue.
5. Savor—Assess quality, balance, and overall appeal. Do you like the wine? Is it your style? The definition of a good wine is one that you enjoy!
Chris: I like to keep it simple. I look at a wine and count the rings from core to rim, like a tree stump. You can see a difference in texture and in color density with white or red wines this way. You can also see how it moves and flows in the glass, which is called "viscosity."
Next, I move into the smell and swirl of the wine. I try to identify the dominant fruit flavors and earth tones (i.e. flowers, mushrooms, iron, etc.); then I try to identify the secondary aromas and oak regiments with very distinct tones; for example, vanilla, cedar, clove and spices.
Then I take a sip. I see if my nose was correct and what new flavors appeared. I always pay close attention to the texture and body of the wine, the acidity along the gum line and the lower jaw, and confirm those beautiful notes that came through so well on the nose.
Q: Becky, what are 3 things I should know before ordering a glass of wine at a restaurant?
Becky: It is important to develop key words to describe what you like! Jammy, spicy, smooth, silky, full-bodied—there are hundreds! This way, your server can help you find the perfect wine.
Become friends with the screw cap, also called a "stelvin"; they are here to stay! On average one in ten bottles of wine is tainted by bacteria that get into the cork of a bottle. The screw top eliminates this and is showing to age wines just as well as cork.
Another helpful tip is to understand the difference between "old world" and "new world" wines. Old world wines are earthier and less fruity, while new world wines are typically riper with pronounced fruit aromas.
Q: Chris, why are certain wines so expensive? Is cheaper wine inferior?
Chris: Wine can be a very expensive sport. Certain wines come from years of history and small but high quality production. For instance, In Burgundy, France, Grand Cru wines make up 1.7 % of production. Some of the most prized wines in this area come from an area that is only about 2 hectare (4.5 acres) in size, so these wines can be extremely pricey.
Cheaper wines are by no means inferior; they are just different in style or quality. One of my favorite things to do is try to find as many great bottles of wine as I can for around $100 total. You may have to do a little homework, but it is worth it in the end result.
It is also fun to get a group of friends together and set a limit on bottles say $25 and under and taste together, see which one everyone likes the most.
Q: What are 3 suggestions you guys have for pairing food with wine?
Becky: Pair light food with light wine and heavy food with heavy wine. For example, pair tomato salad with pinot grigio, or pair Brie baked in puff pastry with chardonnay.
If you pair a light food with a heavy wine, or vice versa, things won't necessarily taste bad, they'll just seem out of balance. The heavier or richer component of the pairing will overwhelm the lighter one and sort of wash your experience of it away.
Chris: I would add that it's okay to break the conventional rules. Fish and red wine can actually work perfect together—just be sure to balance your food weight with wine weight (meaning alcohol, body, texture).
Don't be afraid to ask for some assistance when you're at your local wine store or in a restaurant. Some wine lists can be a bit daunting, so ask for guidance to help you narrow in on wines that will pair well with your favorite flavors or your main course. And always try to finish on a high note. For example, try complementing your next savory dessert with a glass of champagne.
Finally, think outside the box. Be adventurous. Wine is all about discovery.
Special thanks to Becky Brown and Chris McFall for this great primer on the art of wine tasting. I hope you enjoyed their tips as much as I did.
Salute!
By Alex Fairbanks
This article is intended for responsible adults of legal drinking age who wish to learn more about wine. The information provided is for entertainment purposes only, and in no way condones the consumption of alcohol.
Past Newsletters
2014 Newsletters

2013 Newsletters

2012 Newsletters

2011 Newsletters