Oh beastly server, how I will miss thee and thy constant neediness. No longer will I need to cool you down, swap out your bad memory and reimage your data after the inevitable crash.
I have found a better way to handle all of my applications and storage and – get this – I will never again have to physically touch a server or worry about data loss because my backups are automatic and redundant.
Yes, we are breaking up because I have moved on – to cloud solutions. I understand you're upset, but please get a hold of yourself – and let go of my leg. It's embarrassing.
Why use the cloud?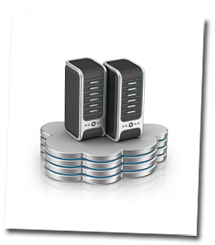 In all seriousness, maintaining a local server farm for small- and medium-sized businesses has traditionally been looked upon with a certain amount of justifiable dread due to the time and expense involved in maintaining hardware, ensuring data redundancy in the event of corruption and putting new servers online when scaling up.
Cloud computing easily handles all of these issues, and its benefits extend beyond simply outsourcing these annoying tasks. In fact, the affordability and stability of cloud solutions are engendering a sea change in how enterprises can milk their data to improve operations in ways that were previously just too costly to consider.
The scalability factor
As an example, let's consider one of the cloud's main benefits: massive, and nearly instant, scalability. Storing enormous amounts of data live in the cloud allows that information to be creatively used to solve real-world problems.
Consider a case where a business uses artificial intelligence to detect employee theft by identifying transaction anomalies when compared with years of historical data stored in the cloud.
Prior to cloud solutions, this data might have been archived and taken completely offline to make space for new storage. The affordability of cloud storage and the ability to simply order up more of it with a few mouse clicks enables businesses to leverage and explore a robust, active data set that might go back to the first document or transaction ever stored.
Oh yeah, and don't forget that this is all available for a much lower cost and faster speed than dedicated local servers, which might lack proper load balancing.
The world is your office
Another benefit to cloud solutions is the creation of a huge mobile workforce that not only allows workers to operate from all over the world, but also reduces the enterprise's carbon footprint, thanks to less commuting and reduced power needs.
Using this model, office square footage is greatly reduced as workers access applications and data remotely, and the need for office staples such as desks, computer workstations, phones and kitchen supplies is eliminated.
Cost and environmental benefits not with standing, the cloud-based mobile worker phenomena does present a bit of a headache when it comes to one thing: security.
The security issue
The enormous amount of company data and wide variety of endpoints used in the cloud, compounded with the fact that a company's data is on servers shared with other unrelated businesses, understandably brings to mind security questions and concerns.
The main one is: "Will my data be safe in the cloud?"
The honest answer is that preventing data breaches or loss in the cloud requires a multi-layered approach, from the physical security provided by large, protected data centers down to endpoint protection on tablets and smartphones, the latest targets for hackers.
The best web security and endpoint protection solutions would defend 24/7, even against unknown threats, through real-time analysis of file behavior. Fortunately, affordable solutions exist, when combined with a cloud provider's own layers of security and regular backups provide adequate protection for most SMBs in the cloud.
With the environmental, cost and ease of use benefits, it is clear that now is the time to get your head out of the clouds… and your data in it.
By Willie Pena