Doug held a vigil for his MiniDisc a few years ago, but he's sitting on a bigger secret.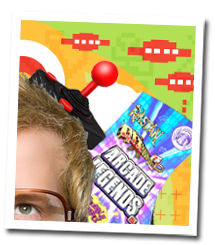 While his music library is entirely digitized, cloud-ified, external hard-drived and archived, in his closet hides a tomb of tapes: cassette tapes, to be exact. He is part of an underground cassette network that holds on to the plastic past of low-fidelity memories. He keeps his CDs and albums less hidden, but the truth is he loves the tinny texture of the sound that emanates from his speakers. His technostalgia is palpable.
If you've ever longed for the meditative days of waiting for dial-up Internet, the 8-bit bleeping of a Commodore 64 or the glorious monotony of playing Dig Dug on your Atari, you may just have a touch of technostalgia. Sure, digital instant gratification is super - but every once in a while, wouldn't it be heaven to sink into your LoveSac with a Nintendo Game Boy and just whittle the time away with a sidekick of batteries?
Technostalgia is wide-reaching and as deep as a ream of dot matrix paper. Here's how the fever and phenomenon are making a wide swath of generations swoon.
Of course there's an app for that
Technostalgia isn't relegated to chat rooms. Savvy entrepreneurs and companies are cashing in with 80s arcade apps and many other nouveau vintage ideas. As technology becomes more sophisticated, application designers have taken a trip back to the past in their souped-up DeLoreans. Upcycled applications include Atari's Greatest Hits along with arcade favorites like Pac-Man, Space Invaders, Super Breakout and Missile Command.
You can also revive your old stereo hi-fi with Stereolizer, an iPad application that looks just like your bitchin' system from the 80s; but with its millennial twist, the app allows you to access streaming radio stations from around the world. If you're angsty for analog and miss the oversaturated, grainy photos of your childhood, use Hipstamatic to recreate the "look, feel, unpredictable beauty, and fun of plastic toy cameras from the past."
And if you want deeper cuts, try the following apps: The Magic Square, which revives Merlin from the dead; the Commodore 64 (which needs no further introduction, thank you); and yes, there's even an app for LED Football, also known as Football by Mattel.
Name that [Chip] tune
Your favorite songs already take you down a one-lane path to your sixth grade skate party or your high school prom. But when you add the warmth of vinyl or the nostalgic "hug" from a cassette tape, the experience is almost tangible. You're not alone. Vinyl record sales increased 55 percent in the United Kingdom this year. Nielsen SoundScan reports that digital sales are outpacing CD sales, but you just can't recreate the authentic spinny sound from a marred CD, can you?
Chiptune music is another trend that has hacker culture by the joysticks. Also known as "8-bit" music, this genre relies heavily on hacked gadgets from back in the day, such as the Commodore 64 and Atari 800. But the most popular chiptune gadget, according to Dan Scheraga, is the Game Boy. (However, don't count out a circuit bent Speak & Spell or toy voice changer.)
The chiptune movement has its own celebration, Blip Festival, as well as a documentary called "Reformat the Planet" that delves into this underground, low-fi subculture. You can also share and upload your own blips to 8bitcollective, a file sharing Website catering to hardcore blipophiles.
Spam used to only be canned meat
If there's one thing the slow Internet movement and technostalgia have reminded us, it's that safety and security really were a lot simpler back in the day. Sure, viruses have always been around and many hackers have AARP cards now, but there was a time when Spam was just something you ate and then fought your sibling for the tin key. Now it's part of your daily digital life, among other annoyances and potential havoc.
Don't get too mired in nostalgia for those pre-phishing days of yore. Instead, let go of the past and prepare for the future. Let someone else worry about the safety and security details.
And let your techy secrets out of the closet. It's not as if Doug's wife didn't know about his cassette fetish. After all, she still has all the mixed tapes he made for her between 1990 and 1994.
By Joy Keller