For Home
Business Security
Threat Intelligence
Partners
Support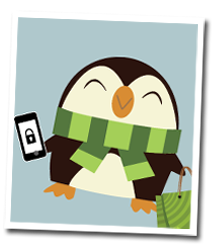 In honor of Black Fridays, Cyber Mondays and all of the fantastic sales days in between, we're sharing our holiday shopping infographic, highlighting the latest stats in online gift buying. And remember: Just because you feel safe shopping online, doesn't mean you are safe.
Read further to find out how to shop safely online, so you and your family stay protected.
Happy shopping!

And for your convenience, we've captured the links from the infographic above and added them below. Click away to a safer holiday-shopping season and an entire year:
Find out if you are fully protected for online shopping. Download our free trial of Webroot SecureAnywhere and scan your PC for FREE.
Learn the latest tips for staying safe online from iKeepSafe, a global leader in online safety education.
Looking for mobile protection? Check out our Android and iPhone security apps.
Have some fun while staying safe at your upcoming holiday parties, download our free Webroot Holiday Party Sobriety Test app today!