Whether you're chasing down the next hot band, an old favorite song or an interesting twist on a musical genre, you can find it on Tumblr. The microblogging platform has become a beacon of creatively curated sites covering every angle of finding, enjoying and dissecting songs and artists.
But with so much good stuff to choose from, how can you find the best Tumblr music sites for your specific sonic fix? We put our ears to the ground and came back with this guide of the top 10 Tumblr music sites for diehard fans.
Make some noise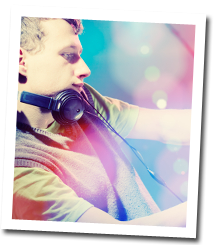 Copycats
Out of the top 10 Tumblr music sites listed, Copycats provides one of the most interesting paths to discovering "new" music. The site's content consists exclusively of artists covering other artists, remixes and mash-ups. Recent posts included Gotye and The Little Stevies covering Paul Simon's "Graceland" and an inspired mash-up of Outkast/White Stripes' "Blue Orchid."
FreeIndie
Every few days, FreeIndie posts three perfectly legal downloads from an independent artist they think might interest their readers. These guilt-free pleasures are just the thing to jazz up the soundtrack of your life. (Recently featured band Tiger Waves would be perfect for your "lying out by the pool" mix.)
2N
Pronounced "tune," this site isn't quite as prolific as FreeIndie (only one song posted per week), and the focus is more about simple exposure rather than providing a free download. But 2N consistently posts deserving songs. It may be something new or old, highly regarded or completely under the radar; the only rule is that it's a song worth listening to. Even accounting for subjective tastes, 2N nearly always hits the mark. If you're looking to get hooked on 2N, recent postings from Grimes, LCD Soundsystem, Sharon Van Etten, College and Phantogram should do the trick.
One Week One Band
2N and FreeIndie can get you started with a few new tracks, but if you want the full backstory on a band or artist you've just discovered, One Week One Band is the Tumblr for you. Each week, a trusted music aficionado will showcase an artist or musician that she or he feels is important for you to discover. It may be someone you've never heard of, or it could be an eye-opening history lesson involving a musician that you've known and loved for years.
Behind the music
Private Noise
Tumblr is as much about social networking as it is about blogging, and Private Noise is the perfect example of that. This site features "person on the street" photos of people listening to music, followed by a short interview with the subject of the photo explaining what they're listening to and why, along with a link to the song they named.
Rock & Roll Tedium
This site collects normal people's tales of banal, asinine run-ins with famous rock stars. Don't worry; it's funnier than it sounds. And, it totally disproves the notion that rock starts are doing crazy, wild things every second of the day. Sometimes, Thom Yorke just goes for a jog.
Break Up Your Band
Shockingly for those of us who grew up in the era, the 90s are back in style; and, writer John Frusciante (The Onion News Network, Cracked.com) does a fine job with this Tumblr dedicated to highlighting the best, worst and weirdest moments in 90s music history. Oh, and for all you Red Hot Chili Peppers fans out there: No, it's not that John Frusciante.
Lastly, for top genre-specific music Tumblr sites, give these a spin:
Hip-Hop Cassette: Great hip-hop tracks, new and old, to keep your head ringin'.
Both Kinds of Music: "Both kinds" refers to Country & Western, and as this site likes to point out, "This ain't your Dad's country music. It's your Granddad's!" Think Waylon, Willie, Hank and Johnny.
Holy Soul: The name says it all: a digital bible of the greatest soul music ever recorded. If you visit one Tumblr-music site today, make it this one.
Have music, will travel
The best thing about all the new music you'll discover through these Tumblrs is that you can load it all on your favorite mobile device and take it anywhere you go. Just make sure your mobile security is up to date so that malware and viruses don't bring your Tumblr-inspired dance party to a screeching halt.
By Jamey Bainer