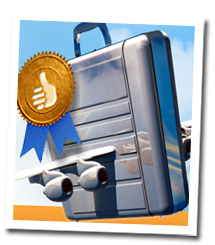 The stress of tedious business travel is often compounded by our concern over whether we're leaving money on the table or doing things most efficiently. Certainly, knowing how to take advantage of frequent flyer programs, rental car companies and travel apps can make the experience much smoother.
Planes….
With frequent flier miles, the central question is: "Where am I going—a lot?" If a couple targeted cities come to mind, the airline that frequents those routes is obviously your best choice. But if the answer is "Good gracious—everywhere!" then there are several programs to consider.
American, Delta and United Airlines maintain the best programs available to the constant business traveler. All three boast extensive travel routes and partnerships throughout the United States and abroad. Each carrier pairs with Citibank, American Express and Visa, respectively, offering credit cards that earn miles with every purchase. Your shopping habits will determine which of the three major credit underwriters best suit you.
You can quickly ascend the usage tiers within American, Delta and United and find yourself enjoying preferred status perks like line cutting, free bag check and upgrades. Knowing where your airline's hub is located is crucial piece of information; this is where they centralize their routes and offer the cheapest fares. American's hub is Dallas/Ft Worth; Delta's is Atlanta and Salt Lake City; United's is Washington Dulles, Chicago and Denver, and now Newark and Cleveland with the recent Continental merger—an impressive network.
One major hitch with each program is that you need to pay attention if and when miles expire—which is usually after 18 months if you don't use the account. United and Continental are still working through their merger, so stay tuned on how that changes their reward program. Currently, Delta's miles do not expire at all.
If you find that you mainly go to major cities, Southwest and Virgin Airlines have "friendlier" programs. You don't feel like you're part of a sprawling, faceless rewards system; and, with fewer blackout dates and conditions, redemption is simpler.
Virgin has, by far, the best cattle-car (i.e., coach-class) flying experience of any airline with its interactive entertainment systems and Wi-Fi Internet in every seat. It should be noted, however, that Virgin and Southwest are a little destinationally challenged with fewer routes, and neither airline has a true hub, per se.
Check out WebFlyer for reward and travel mileage conversion and calculation tools. Also, since they seem to change weekly, be aware of your current airline fees, no matter with whom you fly.
Automobiles…. Once you arrive, you'll need to rent your car. Most travelers don't take the time to research car rental programs (a mid-size sedan is a mid-size sedan, right?), but knowing the membership plans means you get on the road faster while earning rewards.
The National Emerald Isle program allows you to bypass the life-sucking rental counter and select your car of choice from the lot; your drop-off experience is similar to retrieving your car from the parking lot. Enrollment in the Emerald Isle program is free, and you can earn miles and hotel points if you are a preferred partner.
Enterprise's Plus program does not have as many outside benefits but does allow for easy pickup and drop off. In 2010, JD Power rated Enterprise as having the best consumer satisfaction, in terms of rental experience alone.
Avis received lower marks for their operational efficiency but you can use the Avis Preferred program for accruing miles and points on flights and hotels.
And the apps for everything else in between…. And how can your phone or tablet help you while traveling? At this point, almost no facet of business travel is unaided by an app.
Kayak, Priceline or Southwest: All are handy for booking flights and hotels on the go.
TripIt: This 2011 Webby award winner organizes and stores all flight, hotel, rental car and reward points information in a centralized location, making it accessible through your mobile device.
AllSubway: Public transportation just got a little bit easier with this app that helps you get around the subway.
Wi-Fi Finder: Appropriately titled, WiFi Finder locates Internet hotspots—and it's free.
FlightTrack: You can monitor your flight status, delays and weather. And if you buy FlightTrack Pro ($3.99) it synchs with TripIt.
Foodspotting, Yelp or Zagat: Perfect for finding a good restaurant to wine and dine important clients.
GoWalla or SpotWorld: Eventually it's time to turn off the work brain and be a tourist for a free afternoon.
The above should be enough to get you on your way out the door. Any seasoned business traveler will tell you that true streamlining of airports and meetings comes with experience—at least now you can make money back while gaining it.
By Caleb Garling